Press Release
Little Company of Mary, San Pedro RNs OK New Pact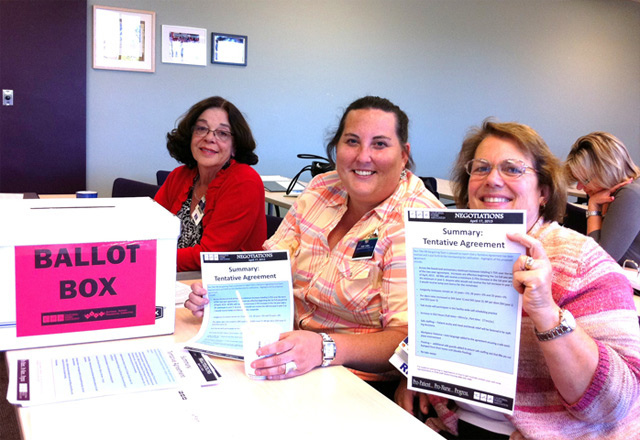 Contact:  Cynthia Hanna, 562-244-9502
Praise Patient Care Gains, Rules to Assure Safer Work Environment
 
Registered Nurses at Providence Little Company of Mary Medical Center in San Pedro, Ca. have ratified a new collective bargaining contract that provides for additional patient care protections, new hospital rules to assure a safer work environment to stem workplace violence, and economic gains.
 
At a time when some hospital employers are insisting on major reductions in patient care and nursing standards, the agreement also was notable for including no takeaways.
 
The California Nurses Association/National Nurses United represents the 300 RNs who work in the Los Angeles area hospital. The RNs voted to approve the new two year agreement late last week.
 
"We spent a lot of time discussing safe floating and staffing practices, which included incorporating a safe lift policy," said RN Joanie Mostert, a nurse negotiator.  "I am pleased to report that we have accomplished what we set out to do and we have ratified a fair agreement."
 
San Pedro RNs celebrate contract approval
 
Patient care issues were at the forefront of the contract talks. A key gain welcomed by the RNs was the hospital's agreement it will not require the RNs to be bumped to work in hospital units outside their clinical expertise to accommodate registry or travel nurses who are not regular staff RNs.
 
Additionally, the hospital agreed to factor in break relief for RNs, as well as severity of patient illness (acuity) before reducing RN shifts to assure safe staffing at all times, as well as implementing the new state law requiring policies to promote safe lifting of patients to reduce patient falls and accidents and RN and other staff injuries.
 
Providing for a safer workplace was another key improvement. The hospital will provide training of employees and other protocols to improve safety standards to curb potential workplace violence.
 
"It was important for us to address our concern about workplace violence and we achieved our goal with new contract language that commits to keeping our workplace a safe environment for everyone," said Julie Cullen, RN who is also a member of the nurse negotiating team.
 
CNA is currently sponsoring legislation on workplace violence, SB 718, authored by Sen. Leland Yee,  that last week passed its first committee test with approval by the California Senate Health Committee. The bill requires hospitals to establish workplace violence prevention plans and response policies, as well as to report and investigate all incidents to the California Division of Occupational Safety and Health (Cal-OSHA).
 
On economic issues, all the RNs will receive pay increases of 5.75 percent over the two years of the agreement, plus additional improvements for long term RNs as well as for per diem RNs, nurses who receive higher pay in lieu of health benefits.
 
"I am new to nursing and happy to be part of a union that advocates for us in getting a fair contract," said Marleen Blanco, RN.