Press Release
Kindred Hospital-Baldwin Park RNs and Caregivers Plan Rally for Quality Patient Care June 7th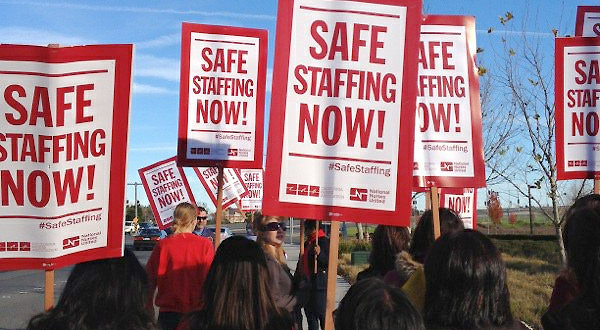 "At the rally we will speak out on the hospital policies that put our patients at risk."
Registered nurses and, caregiver and healthcare workers at Kindred Hospital-Baldwin Park, will hold a rally June 7th to speak out on conditions management has refused to address, including chronic short staffing, a high staff turnover rate and the hospital's growing reliance on temporary workers.
These conditions erode the quality of patient care at Kindred Hospital-Baldwin Park, say RNs and caregivers, and management's failure to rectify them are the reason they voted by a wide margin last fall to affiliate with the California Nurses Association/National Nurses United (CNA/NNU) and the Caregivers and Healthcare Employees Union (CHEU), an affiliate of CNA/NNU.
"At Kindred Hospital Baldwin Park our patients are very ill and require long-term hospitalization. Many have multiple complex conditions and are often on ventilators. They depend on the RNs and the healthcare workers to advocate for their safety," said Alice Ibanez Sebastian, RN, Medical Surgical unit. "We're rallying because Kindred is undermining the quality of care by operating the hospital with chronically unsafe staffing levels."
What: RNs and Healthcare Workers Breakfast Rally for Quality Patient Care
When: Weds. June 7th  6:30 a.m. – 9:30 a.m.  Speakers at 8:30 am
Where: Kindred Hospital-Baldwin Park, 14148 Francisquito Ave, Baldwin Park, CA
"At the rally we will speak out on the hospital policies that put our patients at risk," said Jesus Serrano, Certified Nursing Assistant. "Kindred has the resources and the responsibility to provide safe patient care and we, the RNs and healthcare workers, are raising our collective voice to achieve that."
"The recruitment and retention of committed and experienced healthcare workers is an essential ingredient to quality care - We are the heart of the hospital," said Paolo Tolentino, Licensed Vocational Nurse. "We want Kindred to address the high turnover rate in experienced staff by reaching a collective bargaining agreement that supports the retention of permanent staff and honors their experience rather than operating the hospital with more and more temporary workers."
Kindred Hospital- Baldwin Park is a long-term acute care facility owned by Kentucky-based Kindred Healthcare, a Fortune 500 company operating hospitals, nursing centers and contract rehabilitation services in forty-six states. Over the past year KH has made millions of dollars in revenue from the sale of nursing centers, as part of a planned divestment in this sector and expansion into the home health and hospice services business.
Last year unionization swept Kindred facilities in the region and CNA/NNU now represents 650 RNs at three Kindred Healthcare facilities, including San Gabriel Valley Medical Center, Kindred Hospital-Baldwin Park and Westminster Medical Center.  The CNA-affiliated CHEU now represents 650 caregivers and healthcare workers, including licensed vocational nurses, certified nursing assistants, respiratory therapists, environmental service workers and other technical and service workers at San Gabriel Valley and Baldwin Park.
The California Nurses Association/National Nurses United, is the largest and fastest growing all-RN professional organization and union in the nation with a membership of 100,000 RNs in more than 200 facilities throughout California and more than 150,000 nurses nationwide. CNA/NNU plays a leadership role in safeguarding the health and safety of RNs and their patients and has won landmark legislation in the areas of staffing, safe patient handling, infectious disease and workplace violence prevention.