Press Release
Keep Doctors San Pablo Open-Town Hall Meeting Closure Would Result in Major Healthcare Crisis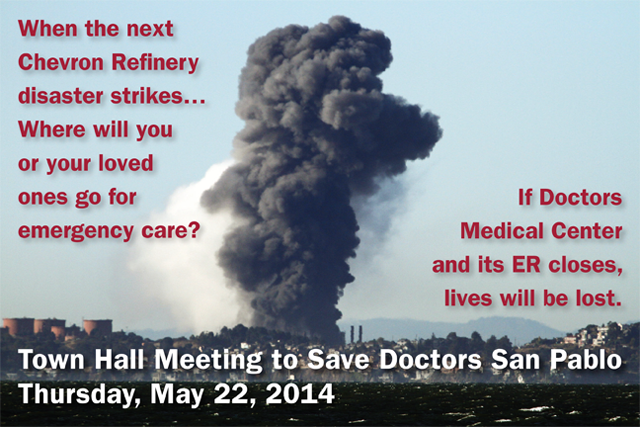 Residents cite 2012 Chevron Fire when majority of 15,000 residents seeking care went to Doctors
 
RICHMOND- West Contra Costa County registered nurses, seniors, religious leaders and community groups are stepping up efforts to keep Doctors Medical Center (DMC), and its emergency room open as a full service hospital as they go door to door to advertise the first of three town hall meetings to be held at the Easter Hill United Methodist Church in Richmond, the California/National Nurses United (CNA/NNU) announced today.

What:            Town Hall Meeting to Keep Doctors San Pablo Open
When:           Thursday, May 22, 2014, 6:30 p.m.
Where:          Easter Hill United Methodist Church
                      3911 Cutting Blvd. Richmond CA 94804

The other meetings scheduled for May 29 and June 5, will be held in Districts IV and V, where the highest proportions of working class, African American and/or senior residents who stand to be most affected by a closure reside.

In the latest development, CNA/NNU filed charges last week with the U.S. Department of Health and Human Service's Office of Civil Rights, alleging unlawful discrimination by Contra Costa County and the West Contra Costa Healthcare District by the planned closure of the hospital.  

DMC has been a vital safety net for citizens of the West County for many years, and as the complaints allege, the closure of DMC would have a disparate and disproportionate impact on the health of African Americans and senior citizens in violation of their civil rights. The complaints seek injunctive relief from the federal government to prevent the closure of DMC.

"Our community is rallying to Doctors Medical Center because the hospital is essential to the health of West Contra Costa County," said Myrtle Braxton, a community activist, and member of the Easter Hill United Methodist's Church. "It would be a disaster for this hospital to close."
 
"In my work as a case manager, I know closure of DMC would have a catastrophic effect on this community," said Karen Davis, a case manager RN, who works at the facility and lives in Pinole. "I help our patients, who often don't have health coverage, get on Medicaid or Medi-Cal.  The health emergency a closure would cause in West Contra Costa County is incomprehensible."
 
"As an emergency room nurse at DMC for over a decade, I know that whether you have insurance or not, DMC is relied on by every person in West County in a healthcare emergency," said Laddie Belmonte, RN.

A post card mailer advertising this weeks town hall was sent to residents of District One represented by Supervisor John Gioia, where DMC is located. The post card, with a picture of a refinery poses the question:

When the next Chevron Refinery disaster strikes... Where will you or your loved ones go for emergency care? If Doctors Medical Center and its ER close, lives will be lost.

DMC provides 60 percent of the emergency care in the region, roughly 40,000 patients a year and has 79 percent of the hospital beds. When the disastrous explosion and fire at the Chevron refinery forced more than 15,000 residents to seek hospital treatment, the majority went to DMC.