Press Release
It's Final – RNs at Kaiser's Flagship Los Angeles Medical Center Ratify New Accord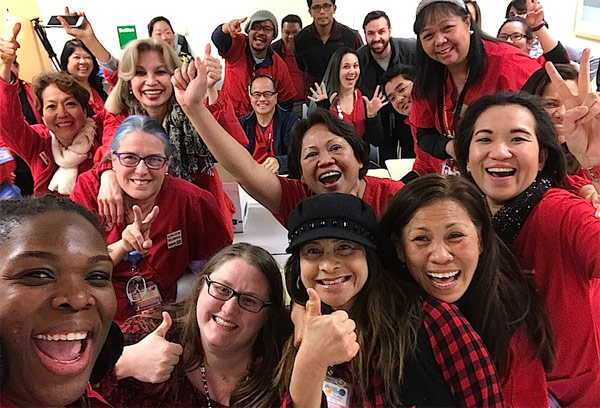 Significant Gains, Health, Retirement Protection
With a record turnout at membership meetings Wednesday, registered nurses at Kaiser Permanente's Los Angeles Medical Center voted nearly unanimously to approve a new collective bargaining agreement with the California Nurses Association/National Nurses United.
Some 1,300 RNs are covered by the agreement, their first with CNA, that includes major economic improvements, protection of health coverage and their pensions, along with patient care contract protections.
"We are happy to have won a historic contract for Kaiser nurses in Southern California," said Violeta Galinato, RN, a cardiac surgery unit nurse who served on the LAMC RN bargaining team.
"With the protections that we've achieved, our patients are going to get better care. Nurses will no longer be forced to work tired and the improvement in working conditions will allow us to recruit and retain experienced staff," Galinato added.
The settlement was won after 17 months of spirited negotiations and RN activism that included two short-term strikes and other actions. The agreement includes wage gains of up to 34 percent over four years, as well as securing the RNs' health coverage and employer-provided pensions.
"We are enormously proud of the LAMC nurses who demonstrated over and over a spirit of collective unity to protect and improve standards for their patients and themselves," said CNA Co-President Zenei Cortez, RN, a Northern California Kaiser RN and chair of the statewide Kaiser bargaining council.
CNA and NNU executive director RoseAnn DeMoro also praised  "the resilience and determination of LAMC RNs as a model for the nation at a time of attacks on union rights, and demands for austerity budget cuts in healthcare and retirement security." 
Patient care provisions included establishment of a Professional Practice Committee of bedside RNs, elected by their peers, to meet with management to discuss patient care concerns in the hospital, and an agreement to prevent mandatory overtime assignments which can lead to nurse fatigue and patient accidents.
Additionally, the proposed agreement includes language to limit the inappropriate assignment (also known as floating) of new RN hires to specialized hospital units for which they do not have clinical expertise. The pact would also reduce the overutilization of travel nurses who do not have familiarity with the hospital or patients.