Press Release
Florida Nurses Prepare for Impact of Hurricane Irma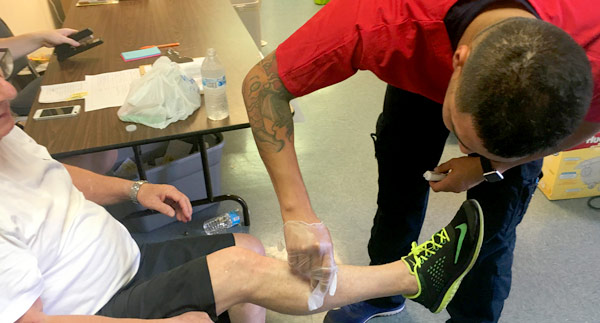 Florida registered nurses, members of National Nurses Organizing Committee-Florida/National Nurses United are getting ready to plunge into disaster relief in the advent of Hurricane Irma heading their way this weekend.
While many Floridians in the target of Hurricane Irma are able to evacuate, nurses remain in its path preparing to help others facing harm.
NNOC-Florida represents 8,000 RNs in 15 Florida hospitals across the state. As the RNs make preparations for their own family safety, most are also prepared to serve long shifts either beginning Saturday morning through the duration of the storm, or on the second relief teams that will follow the first crews.
"We have been in touch with all the hospitals to discuss what plans they have in place for staffing, for housing of RNs who will be working throughout the storm, and for shelter they will provide for their RNs and possibly family members of RNs," says Libby Devlin, NNOC Southern Director, who is based in Tampa.
In one hospital that is in the projected direct path of the hurricane, Devlin notes, union members worked to get a donation of 105 mattresses for staff who will work during the storm.
Individual RNs assigned to the first storm crews will either be evacuating their own families or bringing family members to shelter in the hospital during the first few days of Irma impact.
Additionally, said Devlin, NNOC-Florida is in contact with the hospitals about the availability of supplies, especially adequate food and water, that must be available in the face of the dangerous hurricane especially as some of the hospitals shipped supplies to Texas to provide assistance for the impact of Hurricane Harvey.
NNU's disaster relief program, Registered Nurse Response Network, is also monitoring the advent of Irma to Florida, while also continuing contact with medical aid support in Texas. A team of RNRN volunteers, for example, helped to set up a temporary clinic in Beaumont, TX as well as providing medical support at an assisted living facility who hadn't received any medical attention after the storm flooded the town and knocked out the water supply.
To date, more than 1,500 RNs from all 50 U.S. states, Puerto Rico, and Canada have signed up to volunteer as needed for disaster relief for the current hurricane.
"As nurses, we felt immediately and strongly compelled to assist local communities in their process of healing and recovery from Hurricane Harvey," said RN Response Network director Bonnie Castillo, RN. "This is just the beginning of our assistance, and RNRN will be working with local officials to send ongoing teams of volunteer nurses to areas impacted by the hurricane, in the months to come, given that the initial aftermath of a super storm like this is followed by continuing health challenges."