Press Release
Family Members, Community to Speak Out Against Sutter Health's Eviction of Vulnerable Patients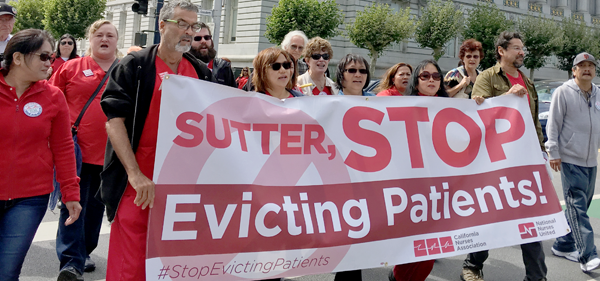 Press Conference  - Tuesday, Aug. 15, 3 p.m.
Following Press Conference - Health Commission Will Hold Prop Q Hearing to Assess How Sutter's Proposal to Close Unit is Detrimental to Patients
San Franciscans for Healthcare, Housing, Jobs & Justice (SF-H2J2), a coalition of over 50 organizations, will hold a press conference on Tuesday August 15 in front of San Francisco City Hall to protest Sutter Health's proposed closure of sub-acute care and skilled nursing units at California Pacific Medical Center (CPMC) - St. Luke's Campus and the ongoing eviction of those patients.  
If Sutter closes this unit there will be no sub-acute units left in San Francisco, a city with a growing older population, according to the San Francisco Department of Public Health.
Family members, health care providers, including registered nurses and other members of the SF-H2J2 Coalition, will speak at the press conference-then participate in the Proposition Q Health Commission Hearing at 4 p.m. at 101 Grove St. Room 300. The purpose of the hearing is to determine the impact of Sutter's proposal on the health of the community.
Sutter's CPMC announced in June that it would close the skilled nursing and sub-acute beds, at the St. Luke's campus on October 31.  Sutter has not explained why it's now trying to evict the patients currently occupying those beds, nor why it intends to permanently reject admission of skilled nursing and sub-acute patients in the future after completion of the new St. Luke's hospital.
Patients cared for in the sub-acute unit of the skilled nursing facility are among the hospitals most helpless and vulnerable. Many are dependent on ventilators, require tracheotomy care and feeding tubes and are held in total body slings for short periods while their beds are changed. Over the years nurses have observed that when these patients are moved from the facility, they often suffer transfer trauma, causing their health to decline. In some cases, the move is so traumatic it leads to their death. 
"Sutter's decision to abruptly evict patients from the sub-acute unit at CPMC-St. Luke's with absolutely no plan in place shows an appalling disregard for human life," said Jane Sandoval, an RN at the hospital for more than thirty years.
"These patients have complex needs which require specialized care. The staff on this unit has dedicated their lives to providing this care. The patients have already suffered from traumatic injury and serious illness. Sutter's job is to protect them, not cause them further harm. This is what happens when management sees hospital units as "revenue centers" rather than places of healthcare and healing," said Sandoval, who is also a California Nurses Association boardmember.
What: Press Conference to protest Sutter Health's eviction of patients and proposed closure of sub-acute unit at CPMC-St. Luke's campus.
When: Tuesday, August 15, 3 p.m.   Health Commission Prop Q hearing begins at 4 p.m.
Where: San Francisco City Hall,1 Dr. Carlton B. Goodlett Place
At a hearing of the San Francisco Board of Supervisors Public Safety Committee on July 26, family members reported that they received little or no warning about the premature closure. They testified on the importance of their loved ones remaining at St. Luke's so that they can continue to give them the support that is vital to their well being. Many of the patients' families have very limited resources and are elderly or in poor health themselves which makes traveling to out-of-town facilities extremely difficult.
"My developmentally-disabled sister has been a patient in St. Luke's sub-acute for seven years," said Raquel Rivera, coordinator of St. Luke's Sub-Acute Family Council.  "My mom comes to see my sister all the time.  My parents are elderly and can't travel far from their home in San Francisco.  If my sister is moved from San Francisco, my parents won't be able to visit her.  I fear how this will impact my sister."
"My mother can't speak for herself, but if she could, I know she would be asking CPMC, 'What did I do to deserve this?'  How can CPMC exclude my mom?  She's on life-support!  Why isn't she allowed into their new hospital?" said Marshia Pushia.
In a statement on the proposed closure, Helen, a patient at St. Luke's sub-acute for nearly six years said, "I am a Vietnamese refugee and had to leave my country to keep my freedom. So I am no stranger to being forcibly displaced! It was dangerous to be forced to leave back then just as being forced to leave St. Luke's is dangerous for my health now. All my relatives and friends that support me are here in San Francisco.  If I am forced to relocate outside of the City they will no longer be able to visit.  Because they are crucial to the success of my health plan and future well-being, they are like medicine for me.  Without them I will get sicker."