Press Release
DC RNs to Picket Hospitals' Powerbroker Fundraiser for Councilwoman Alexander Tonight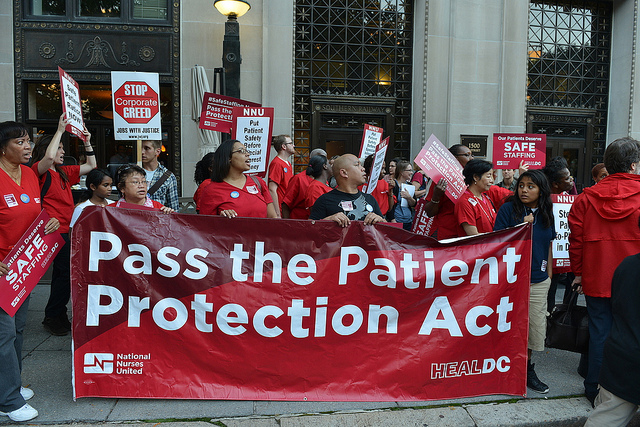 'Pass Patient Safety Bill Now'
Registered nurses from District of Columbia hospitals, joined by community allies, will picket a fundraiser for DC Councilwoman Yvette Alexander hosted by a hospital industry powerbroker tonight to step up the call for the District Council to move forward on a critical patient safety bill.
Alexander, who chairs the Council's Health Committee, was one of 10 council members who co-sponsored the Patient Protection Act when it was introduced by Council Chairman Phil Mendelson in February. But Alexander has yet to schedule a committee hearing on the safety bill as the hospital industry has waged a furious lobbying campaign against it. Tuesday's hospital powerbroker-sponsored fundraiser for Alexander is the latest indication of that effort.
What:         Nurses, community activists picket hospital fundraiser for Councilwoman Yvette Alexander
When:        Tonight, Tuesday, October 1, 5:30 p.m.
Where:       Georgia Brown's Restaurant, 950 15th Street, NW, Washington, DC
"Registered nurses will not relent from our advocacy for our patients and we demand that the District Council move this bill to a vote," said Stephanie Sims, RN, a neo-natal intensive care nurse at Washington Hospital Center who resides in Alexander's ward.  "Council members need to decide if they are on the side of patients and their families—or hospital executives making outrageous salaries and huge profits for their institutions."
"How many more patients and their families must be put at risk while hospitals throughout the District maintain unsafe conditions? It's long past time for a hearing and for the full Council to have the opportunity to vote on this vital bill," said Sandra Falwell, a neo-natal intensive care unit RN at Children's National Medical Center and an NNU Vice-President.
The Patient Protection Act would require minimum, mandatory standards of nurse staffing in all district acute care hospitals– a proven way to save patient lives, cut down on medical errors, decrease hospital-acquired infections, reduce pressure sores and the frequency of patient falls and injuries, and minimize hospital readmissions— to ensure safe staffing for patients at all times at all DC hospitals.
The bill is modeled after a highly successful California law that since its implementation nine years ago has saved thousands of patient lives, promoted improved overall quality of care, and helped keep the state's most experienced nurses at the bedside.
Introduction of the bill followed reports of an autumn 2012 NNU survey of DC area nurses which found 57 percent of DC nurses say staffing is inadequate always or almost always; 64 percent said they have less time to care for patients; and 87 percent say that mandatory nurse-to-patient ratios, such as those in California, are needed in DC.
The bill has broad support from labor and community organizations across the District. In April, for example, 43 faith leaders announced their support for the bill and urged the council to act on passing it.