Press Release
Chicago RNs, Community Supporters to Call on Rep. Danny Davis to Support Wall Street Tax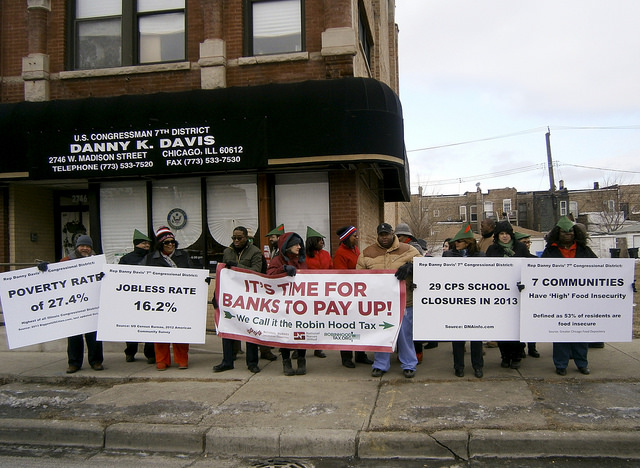 Endorsing Robin Hood Tax Seen as Honoring Legacy of Dr. King's Call for Economic Justice
In honor of Martin Luther King Jr, supporters of the Inclusive Prosperity Act (H.R. 1579), also known as the Robin Hood Tax, will hold a rally outside U.S. Congressman Danny Davis's district office on Friday, January 17. Participants are urging Davis to help realize Dr. King's dream of economic justice by reaffirming his support for the Robin Hood Tax bill.
What: Rally to Honor Dr. Martin Luther King Jr with Support for the Robin Hood Tax
When: Friday, January 17 10:00 am – 11 am
Where: 2746 W. Madison, Chicago in front of U.S. Congressman Danny Davis's office
The Robin Hood Tax bill would assess a small tax on Wall Street financial transactions and could garner up to $350 billion annually that could be used for healthcare, education, jobs creation, AIDS research and treatment, housing, fighting climate change, and more. In addition to raising much needed revenue, the tax would curb the speculative high frequency trading which exacerbated the economic crash of 2008.
Thousands of working people have yet to recover from the crash and many of those families reside in Rep. Danny Davis's district which has a poverty rate of 30%, the highest of any other Congressional district in the state. According to Moody's, in the Chicago Metropolitan area (Chicago-Joliet-Naperville, IL-IN-WI Division) between 2007 and 2011, personal bankruptcies have more than doubled and the median income has declined by 11%.
"I want my representative, Danny Davis, to come out loud and clear in support of the Robin Hood Tax," said Bill Barclay, a 34 year resident of Oak Park, who plans to attend the rally. "My message to Rep. Davis is, don't let special interests, like the Chicago Mercantile Exchange, get in the way of our raising the revenue we need to heal our community," said Barclay, who retired after 22 years as Senior VP of the Chicago Stock Exchange.
"We are rallying to let Rep. Danny Davis know that we expect him to pledge to support the Robin Hood Tax and we are going to keep reminding him of his responsibility to advocate for the well-being of his constituents," said Arlene McFadden, a registered nurse at the Cook County Department of Corrections' Cermak Health Services.
"As Dr. King said, 'Our lives begin to end the day we become silent about the things that matter,'" said Sheilah Garland, of National Nurses United. "Dr. King stood for economic justice so we're honoring him by speaking out for the Robin Hood Tax. It's one practical step that we can take towards economic justice in our city and for
###