Press Release
California Nurses Rally Against Kaiser's $21.7 Billion In Excess Reserve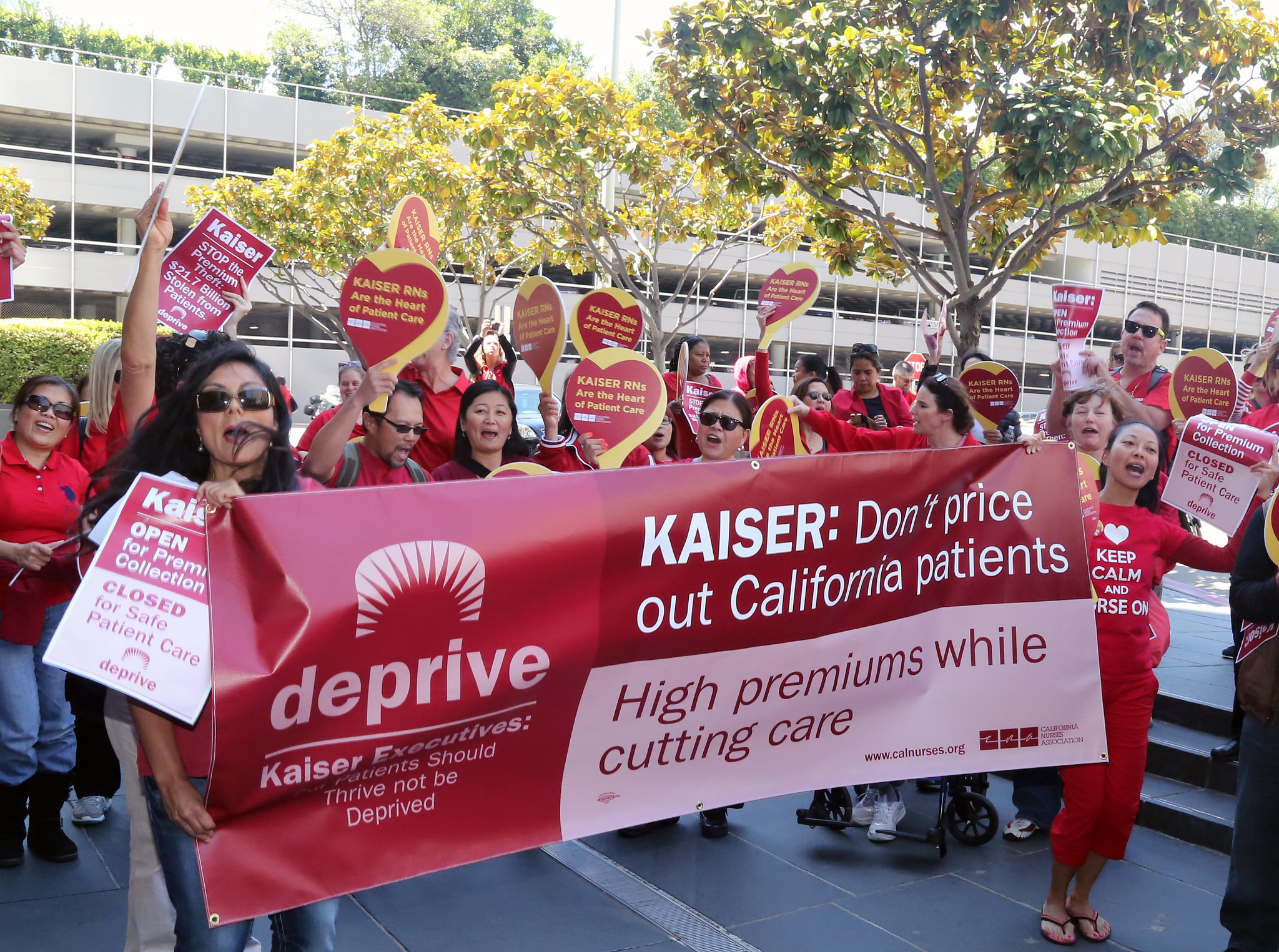 RNs Endorse Health Insurance Rate Regulation Initiative To Return Billions Of Dollars To Patients
Oakland, CA – At a rally and press conference today, Kaiser nurses and consumer advocates exposed the fact that Kaiser Permanente has accumulated a reserve that is $21.7 billion – 1626 percent – more than required by the state, while cutting patient care services and raising premiums on consumers. 
The California Nurses Association/National Nurses United, which has 85,000 California members, also announced its endorsement of a measure that will appear on this November's ballot to regulate health insurance rates in California, just as the state already regulates auto insurance rates.  The initiative can force refunds to consumers based on such excessive amounts held in reserve.
CNA Treasurer Martha Kuhl, RN noted that California registered nurses regularly "struggle to get our patients the care they need, including people facing financial ruin because of high insurance bills. Too often these struggles are over what the insurance company will pay rather than what is the best care option for patients. This November Californians can confront the bottom line mentality of insurance companies by passing this initiative to rein in these out of control price hikes."
"Kaiser has given more than $7.1 million against rate regulation because it wants to continue overcharging customers," said Jamie Court, proponent of the ballot measure and president of Consumer Watchdog. "Kaiser can raise rates at will today, but voters can force health insurance companies to justify rate hikes in the future and to return excessive premium dollars to customers."
Kaiser Oakland RN Katy Roemer decried Kaiser's recent rate hikes, which cost small group policyholders $18 million, and individuals $59 million, while cutting patient services.   "Kaiser nurses cannot stand by quietly while Kaiser is hiking rates, cutting care and accumulating vast reserves and using patient care dollars to defeat an initiative that begins to bring some accountability into high prices that insurers impose on patients and families," said Roemer.
Kaiser increased its excess reserve, or tangible net equity, by $8.8 billion in 2013, according to state records. The latest filings show $21.68 billion in "TNE Excess." 
In January Kaiser raised premium rates for individual policyholders by as much as 22 percent and for small business policyholders by as much as 56 percent.
The health insurance rate review and regulation ballot measure on November's ballot will allow for refunds if consumers have paid excessive rates since November 2012 and requires future rate hikes and benefit cuts to be justified.  The initiative allows the state to return excessive reserves to policyholders in the form of lower premiums.
To quantify the value of $21.7 billion, the advocates noted the amount:
For more information about the initiative, see www.JustifyRates.org 
Top 12 Ways Kaiser Could Use its $21.7 Billion Reserve Slush Fund to Help Patients

1) Admit patients who need nursing care rather than blocking admission or holding them on gurneys in the Emergency Room.
2) Stop using 'observation status' as a way to circumvent in-patient admissions*. 
3) Place patients in the appropriate hospital unit so they receive the level of care of nursing care their health status needs. Too often patients are placed in inappropriate units with lesser staffing that puts them at risk because an RN could not properly monitor them.
4) Stop the premature discharge of patients who still need hospital care. Too often patients are sent home with the care burden placed on family members to provide continued complex medical care. 
5) Guarantee women in labor who arrive in a hospital or ER are seen immediately by an RN and admitted when needed rather than subjecting them to long waits that can harm the mother and baby.
6) Provide needed equipment and replace broken blood pressure machines, medication scanning machines and basic supplies that are often not available leading to delays in patient care. 
7) Stop placing pediatric patients on adult floors without proper security processes that put those children at risk from adult patients who have a psychiatric diagnosis. 
8) Properly staff hospital blood banks at night to reduce delays in care for patients who need blood for emergencies.
9) Improve RN staffing at a number of Kaiser hospitals that face persistent under staffing which puts patients at risk.
10) Restore full services to Kaiser's Manteca Medical Center. Many patient services were slashed last year forcing seniors to travel much longer distances for care.
11) Restore pediatric care services to Kaiser members in the Hayward-San Leandro corridor. Kaiser closed the Hayward pediatrics unit in November leaving over 100,000 families in southern and central Alameda County without access to hospitalization for children under 18 in their own communities.
12) Reduce Kaiser premiums and co-pays imposed on Kaiser members and patients.
*Patients held in "observation status" are considered outpatient so that the hospital does not face Medicare penalties if that patient is re-admitted within 30 days. Some patients are placed in "observation units" within a hospital setting for prolonged periods of time up to 72 hours or more. Additionally, patients sent from a hospital to a nursing facility must have been counted as an inpatient for three days in a row to qualify for Medicare coverage; observation status is not counted toward those three days.