Press Release
California Election Called Biggest RN Union Win in 7 Years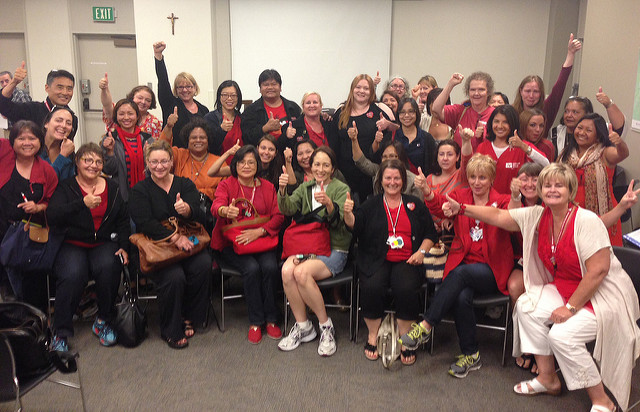 As Los Angeles Area RNs Vote to Join Largest RN Union
Little Company of Mary, Torrance RNs Vote to Join CNA
In what is believed to be the biggest U.S. election win for non-union hospital registered nurses in seven years, RNs at a Los Angeles area hospital Wednesday night voted to join the California Nurses Association/National Nurses United.
With their hard fought election win – by a count of 279 to 261 in secret ballot voting conducted by the National Labor Relations Board – RNs at Providence Little Company of Mary Medical Center in Torrance, Ca. withstood what CNA characterized as a furious anti-union campaign by hospital management and its high paid anti-union consultants.
CNA will now represent some 725 RNs at the Torrance hospital, which is part of the Renton, Wa.-based Providence Health system.The vote is believed to be the single largest non-union RN election win in the U.S. since a 2006 election win by CNA at Doctors Medical Center in Modesto, Ca.
"United with my co-workers we have never felt so empowered. We need improvements in staffing, floating and look forward to gaining a real voice in patient care," said Caroline Gallego, a 24-year Labor and Delivery RN at Little Company of Mary Torrance.
"In these times of economic uncertainty, we need job security, safer patient ratios and a just fair system to protect nurses," said Intensive Care Unit RN Rainbow Stephens. 
Providence is one of the largest Catholic hospital chains in the U.S. CNA called the intimidation and coercion tactics of RNs by the hospital "antithetic" to the values of workers rights espoused by many church-affiliated institutions.
"The hospital's conduct was an appalling affront to the nurses and patients in this community," said David Johnson, NNU organizing director. "With this victory, RNs at Little Company of Mary have spoken for thousands of other RNs who are also organizing with NNU to confront the massive changes in healthcare that threaten nurses' ability to effectively advocate for their patients, and themselves." 
Providence operates 32 hospitals in Alaska, Washington, Oregon, Montana and California.
CNA now represents about 1,500 overall in the Providence chain in Los Angeles County, including RNs at  Providence Little Company of Mary San Pedro and Saint John's Health Center in Santa Monica, a hospital Providence is in the process of purchasing. Together the three hospitals give CNA and NNU a strong voice in the Providence system particularly in California, CNA said.
Torrance RNs, said CNA, paid close attention to a contract settlement earlier this year at the Little Company San Pedro hospital, as well as one in the fall of 2012 at Saint John's. Both agreements provided for additional patient care protections, especially in enhanced staffing and adherence to the state law requiring safe patient handling policies for safe patient lifting to prevent injuries to nurses and patients, as well as economic improvements for the RNs.
Torrance RNs cited similar concerns in seeking representation and a collective voice through CNA
including improved staffing especially strengthened nurse-to-patient hospital ratios, better benefits, equitable pay, improved job protections and enhanced retirement security.
The election win at Little Company of Mary Torrance continues a remarkable run of election victories for NNU, one of the fastest growing unions in the nation. Since the founding of NNU, the nation's largest organization of nurses, in December 2009, over 16,000 RNs at 41 hospitals in 13 states have elected to join NNU affiliates.