Press Release
Affinity Medical Center RNs to Picket Monday for Safe Staffing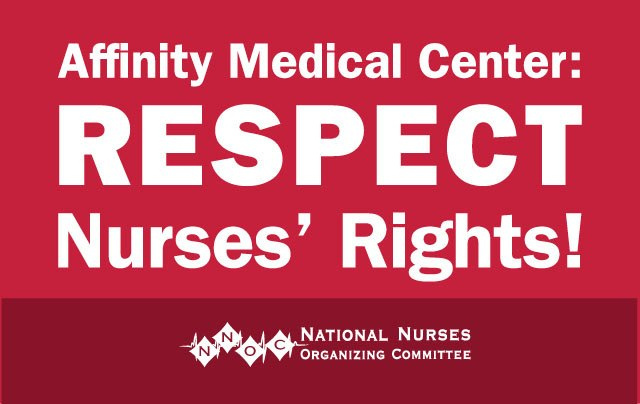 Registered nurses at Affinity Medical Center in Massillon, Oh will hold an informational picket outside the hospital on Monday, January 28 to protest unfair labor practices and hospital management policies they say are intended to intimidate and discourage nurses from reporting unsafe practices, such as inadequate staffing, that put patients at risk.
What:              Informational picket by Affinity RNs
When:             Monday, January 28, 6 a.m.-8 a.m. and 6 p.m. to 8 p.m.
Where:            875 8th St., NE Massillon, Oh
Affinity RNs have become increasingly concerned about patient care practices at the hospital, such as inadequate staffing to meet the needs of each individual patient, insufficient support staff to provide timely and safe care, and unsafe practices called "floating" in which nurses are required to work in clinical areas for which they do not have specialty expertise or orientation.
In response, the nurses have filled out NNOC forms, called "Assignment Despite Objection," reporting what they think is an unsafe assignment, that they submit to hospital managers in hopes of encouraging changes in hospital policy to improve patient safety.
"The ADO gives RNs a voice," said Sarah Falanga, RN, an intensive care nurse at Affinity.

"We need this voice to make sure that patients are safe. We have a duty and an obligation to provide patients the level of care prescribed to them by the doctor. We can't do that when we are caring for 3-4 patients. We are ready and willing to fight for the safety of our patients," she said.
But, Affinity nurses say, the administration has reacted with fury, rather than addressing the concerns, threatening and seeking to intimidate the nurses to stop the practice.
NNOC-Ohio has in turn filed charges with the National Labor Relations Board charging Affinity with an illegal violation of federal labor law by interfering with and seeking to coerce employees who are lawfully engaging in their protected rights to collective activity.
The RNs voted last August to join the National Nurses Organizing Committee-Ohio, an affiliate of National Nurses United, the largest U.S. organization of nurses. NNOC/NNU represents 250 RNs at Affinity.
###