Press Release
3,000 Nurses Volunteer for Philippines Relief Effort with National RN Group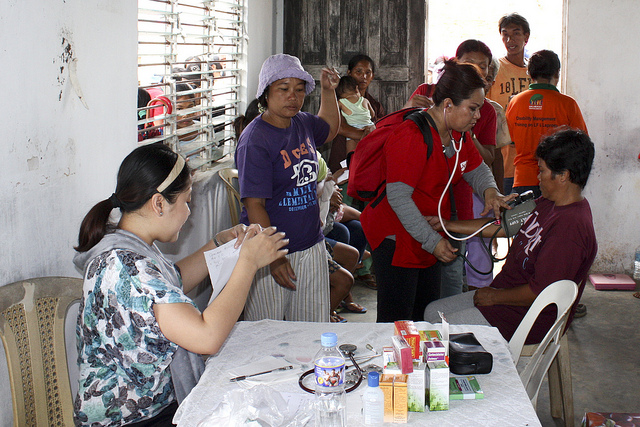 Local nurses available for interviews

RNs offer the gift of healing for the holidays
 
As holiday ornaments go up and family feasts are planned, registered nurses are making tentative plans to spend part of the holiday season in the Philippines, providing medical support in the wake of the Typhoon Haiyan/Yolanda as part of the relief effort organized by National Nurses United's Registered Nurse Response Network (RNRN).
 
"As people across the country prepare to celebrate the holiday season and news of the disaster's after-effects slips from the headlines for many, our commitment to the disaster relief will never waver," said Bonnie Castillo, RN, director of RNRN. "We will continue to send qualified nurses to areas in greatest need as long as possible."    
 
The local RNs have been screened and are part of a growing list of more than 3,000 nurse volunteers from all 50 states and 15 nations who have signed up to date. The nurses are appealing to their communities to help them raise the funds to help get them on the ground into the devastated areas, where RNRN is establishing clinics.
 
RNRN is still encouraging nurses to continue to sign up and, most importantly, inviting the public to support their effort here.
 
A first RNRN team is already in the Philippines meeting with disaster relief organizations, provincial government officials, and healthcare organizations, including the Alliance of Health Workers, a member of NNU's international affiliate Global Nurses United. They are also providing hands-on care.
 
A second delegation of RNs from Las Vegas Los Angeles, Michigan, New York, and are leaving for the Philippines over the next few days. Three of the nurses are sisters who will also visit their mother, on the eve of her 80th birthday, who lives in a house on the island of Panay that was severely damaged by the storm as it tracked through the island. The RNs will work at several clinic sites on the northern end of Panay island. Clinics are being set up with local public health officials, physicians, a church and other community supporters.
 
"People have lost their homes, lost their livelihood, lost their animals that helped with their livelihood. They need medical care. They lack medicine, lack nurses, lack doctors. In each area we go to, this is their plea, to help with medications and medical assistance," said Joseph Catindig, RN, a member of the first team.
 
"They are asking for help. We're communicating with the whole the world for them, back home. They are not alone. We're telling them about all the nurses that have signed up to help. They are a strong people; they know they can rebuild," said Michelle Vo, RN, another RNRN first team member who has been on the ground. 
 
RNRN, a project of National Nurses United, the nation's largest organization of RNs, was formed in 2004 in the aftermath of the South Asia tsunami, when the need for nurses was not being met by traditional disaster relief organizations.  Since that time, RNRN has sent hundreds of direct-care nurse volunteers to assist following Hurricane Katrina, the massive earthquake in Haiti, and Hurricane Sandy.