Blog
WHAT EVER HAPPENED TO "GOOD JOBS"?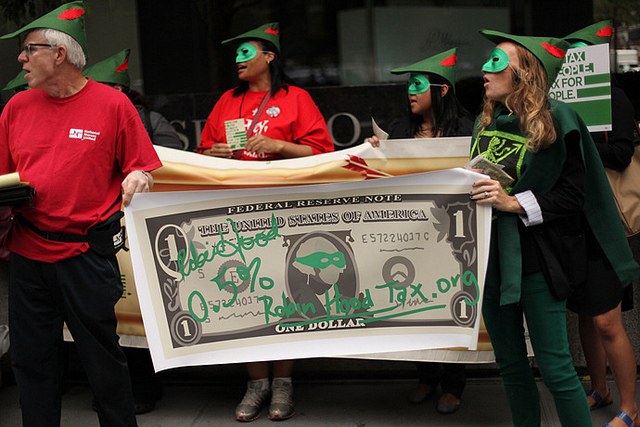 It is hard to pinpoint the precise moment when "good jobs" disappeared from national discourse, ignored by our leaders and the media that cover them.   The phrase was invoked during President Obama's campaign—that is, his first run for the presidency.   But it soon disappeared in a West Wing dominated by Wall Street.  This time around it was altogether gone from campaign rhetoric, a vanishing act with catastrophic consequences for millions of Americans.   "Good jobs" continues to be banished from national discourse, as if the censors of capital wished it away.  
 
Corporations have nothing to say on the subject, intent to hold down wages and sit on vast amounts of capital – some $3.4 trillion, by last count.  Over the next decade, 7 of 10 new jobs will be low wage, reports the Bureau of Labor Statistics.   The rate of corporate profit is at its highest level in more than a century, according to Bloomberg.   That's quite a record… Coolidge, Harding, Eisenhower, Reagan, Clinton, Bush II… all left in the dust.
 
Wall Street is thriving.   The stock market S&P index shot up 13% in 2012, and JPMorgan Chase had its best year ever in 2012, with Goldman Sachs close behind.  Indeed, the 1% continues to accumulate vast wealth and U.S. economic inequality becomes more pronounced, even as alarms go off at the International Monetary Fund and elsewhere that inequality undercuts growth. 
 
In spite of it all, everyone knows this central truth:  Life is at a dead end in this country without a full-time job at a good wage and with decent benefits.
 
Since the Inauguration earlier this month, official debate has focused on debt ceilings, women in combat roles and most recently on immigration.  These are hardly irrelevant matters; but in the end they fill front pages and newscasts where we should see and hear the clamoring for good jobs.  
 
The  immediate goal of the Robin Hood Tax is to put revenue into the many communities still reeling from the effects of the financial collapse of 2008.  An estimated $350 billion can be raised annually from a small sales tax on Wall Street financial transactions, today embodied in The Inclusive Prosperity Act, sponsored by Rep. Keith Ellison (D-MN).   More than 125 organizations – labor, religious, consumer, health advocates and others – have endorsed the bill.  Together these groups total millions in members.   They join financial transaction tax movements worldwide; 40 countries have such a tax in place today, as economists, even leading business executives, are raising their voices in support.  
 
While the corporate sector in this country staunchly refuses to invest in good jobs, government must step forward, invoking Robin Hood tax revenue for good jobs in healthcare, in education, to provide a clean environment and to rebuild a deteriorating infrastructure.   Our communities are falling down around us. 
 
Many millions need these jobs.  There are a staggering  22 million adult Americans who are without full-time jobs today  and for whom the hardship of enduring unemployment is taking a terrible toll.    Some are recent college graduates, loaded down with debt from escalating school costs.   A Rutgers University survey found that half the college grads in this country over the last six years do not have full-time employment.   Robin Hood funds can help them get a start in life. 
 
What we do not need are more low wage jobs, as the numbers of working poor grow each year to astonishing levels in this, the wealthiest country in the world.    According to the Census Bureau, one-third of adults who live in poverty are working but do not earn enough to support themselves and their families.   A quarter of jobs in America pay below the  federal poverty line for a family of four - $23,050.   Close to half of food stamp allocation goes to households where an adult is working full-time- that's taxpayer money paid to workers whose bosses won't pay a living wage.   
 
Our government should join Rep. Ellison and his co-sponsors and embrace the Robin Hood tax and its call for good jobs in a real economy.  Without it, and the yearly revenue it would provide for an enduring recovery for all, the legacy of our nation's leaders will be poverty on a vast scale.
JOIN THE MOVEMENT TO TAX WALL STREET HERE >>