Blog
Tell the FDA— Protect the Public's Health—Regulate Healthcare Technology!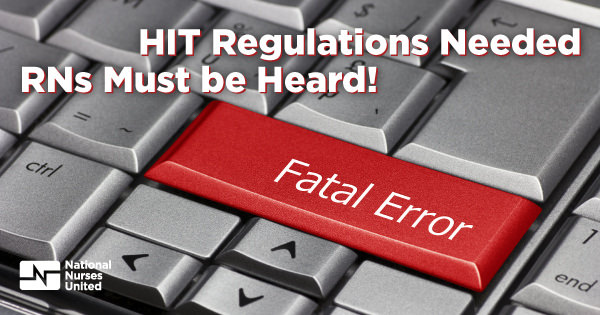 Your Comments Needed Today
—FDA Debating Regulations on Health Information Technology-DEADLINE—July 7
 
The US Food and Drug Administration, (FDA), is now taking public comments on how (and if) it should regulate Health Information Technology (HIT) and Clinical Decision Support (CDS) systems.
 
The FDA has already suggested that it thinks that regulation of these systems is NOT necessary! They need to hear your voice to protect our patients.
 
As direct-care registered nurses we are acutely aware of the rapid spread in the use of unproven electronic health records and other forms of medical technology and the untested implications for patients.    
 
You know first-hand the problems that arise when technology is rolled out that may be skill displacing, not skill enhancing, and when RNs are hampered by a system design in making autonomous judgments in response to the protocols directed by the computer programs. And how the systems take RNs away from the patients to interact instead with patients – as one RN said this week, "the computer is now my 5th patient."

Hospitals are spending tens of billions on buying health IT systems and it is vital to ensure we have protections for public safety that also safeguards the patient advocacy role of RNs.
 
It is critically important that you take a few minutes to send comments using your personal experiences and observations as a bedside RN to make the points below as applicable.
 
You may draft your own comments, or use one of the forms by inserting a short description of your own experience with the dangers of these tools that attempt to fit real live, individual patients into preprogrammed care plans.


Submitting Comments
Click here to submit comments to the FDA
 
Short sample version:
 
HIT (Health Information Technology) IS DANGEROUS: I have been a registered nurse for ___ years. As an RN I have witnessed firsthand the dangers of health information technology. [Examples__________].

Patients' lives depend on robust federal regulation of health information technology. Regulation of clinical decision software is especially important because it directly affects the diagnosis and treatment of patients in life and death situations.

Finally, the regulations should explicitly state that RNs and other licensed caregivers have the right to use their professional judgment to override health information technology in the interest of individualized patient care and safety.

Instructions for posting comments
___Comments due: Jul 07, 2014 11:59 PM ET___
 
It's probably best to work on your comments before going to the website and then paste them into the comment box after you are finished.

Click here to submit comments to the FDA

Step 1: Your information
Enter comments
Option to upload files
Enter First and Last name
Option to check boxes


I want to provide my contact information
I am submitting on behalf of a third party (Do not check)

Enter category: Health Professional - A0007 (or as applicable)
Step 2: Your preview
You will see your comments and can either edit or submit comment.
Step 3: Your receipt

Here's an NNU commentary on the problems with healthcare technology
 
See our national public advocacy campaign on the issue