Blog
San Diego RN speaks out for dignity of migrant children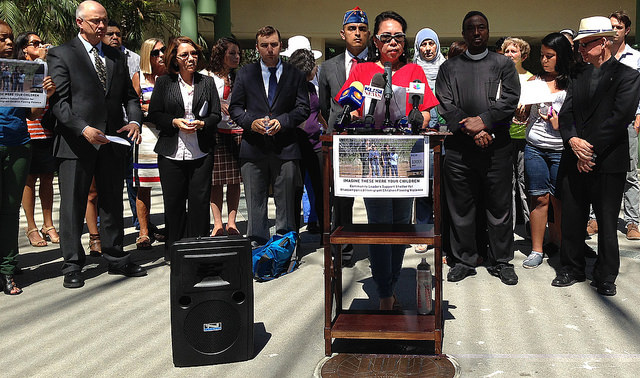 San Diego RN and California Nurses Association/National Nurses United member Lisa Rainford joined with area civil rights and human rights activists July 22 in calling on Escondido, Ca. city officials to reverse a decision to block the opening of a closed nursing home as a shelter to temporarily house refugee migrant children.
 
Speaking at a press conference, Rainford emphasized the role of RNs in advocating for the rights of people around the world, especially in caring for and helping people in crisis.
 
The plight of refugee children, most of them who are fleeing from violence in Central America, has become a major flash point in the immigration debate in the U.S.
In June, the Escondido Planning Commission denied a request by Southwest Key Properties, a contractor for the U.S. government, to open a shelter at a former nursing home as a temporary 96-bed shelter for the refugee children.
 
On July 22, Rainford joined more than 100 community activists and clergy who participated in a march to City Hall and press conference in support of the shelter that emphasized that the children should be treated with dignity and compassion not the abuse and threats of violence that has characterized so much of the debate.
 
Many of them carried signs that read "Protect the Children" and "Compassion is an American Value," the San Diego Union Tribune reported.
 
Organizers of the march said the shelter would not only provide safe housing for the children it would also provide over 150 well-paying jobs and boost the city's economy. Bowing to conservative, anti-immigrant residents in the area, the Planning Commission rejected the appeal.
 
In her statement to the press conference, Rainford said she was speaking on behalf of NNU and RNs who "care for the sick and vulnerable every day. We do not discriminate against people because of their skin color, their income, or because of where they were born. We believe in helping and healing people."
 
Rainford went on to state:
 
"Nurses from our organization, through the Registered Nurse Response Network, have responded to humanitarian crises around the world. We set up relief operations in Louisiana when Hurricane Katrina struck. A delegation of our nurses cared for the people of Haiti after the devastating earthquake hit. And we are helping people of the Philippines who were ravaged by typhoon Haiyan. When people are in distress, when their lives have been turned upside down, we need to help them.
 
"The people who have arrived here from Central America are no different.  Most of the children and teenagers have arrived here after being uprooted by violence and crushing poverty. They are simply trying to survive. The journey itself has left many of these children malnourished, injured, and traumatized. Many have reported being brutalized, raped, and seeing friends and family murdered. They need care, and they need compassion.
 
"Nurses and members of our organization worked in the Continuing Care Center here in Escondido when it provided care for the elderly. This facility is the prospective site of the Southwest Key shelter for unaccompanied children and we were shocked to learn that the city planning commission denied a conditional use permit for the refugee children at this site.   
 
"This facility will provide a safe and secure place for these young people to be cared for. Warnings of disease (and crime) have been fabricated to create fear among residents. There are no credible threats to the health or safety of Americans from these immigrants.  We need to stand up to fear mongering and see that these claims are simply not reality. There is no good reason to prevent them from using this site.
 
"RNs have a long and proud history as social advocates, fighting for and providing equitable healthcare for all. As Americans we must care about the plight of people in distress, especially children and young people. These people who have come here deserve humane treatment. We should treat all people with dignity and respect."