Blog
ROBIN HOOD ANSWERS CALL FOR AIDS FUNDING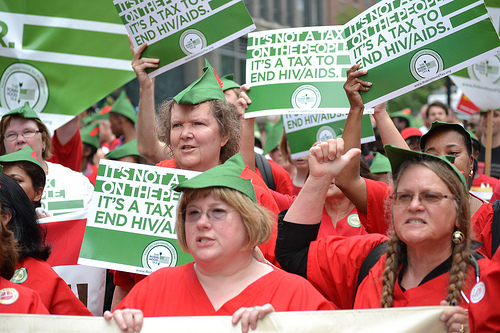 Attendance reflected the concern – worldwide – and when protesters spilled out of the Washington Convention Center at Mt. Vernon Square at noon yesterday, the mood was one of strong focus and commitment.   It was mid-week through the 19th International AIDS Conference and marchers hit the streets sounding this theme:  We Can End AIDS.

NNU members from around the country were there in behalf of all nurses, caregivers intimately familiar with the healthcare needs of AIDS patients.  Joining a field of activists and supporters – among them many living with AIDS/HIV+ --  thousands gathered at five separate locations in downton D.C. and headed toward Lafayette Park, across from the White House.  The marches, sponsored by Health GAP, Vocal-NY, ACT UP and National People's Action, as well as NNU, and supported by numerous others, filled the streets.  That afternoon this chant -- "Wall Street steals, nurses heal" -- resonated throughout the cavernous streets of D.C., where lobbyists and special interests ply their trade.  

En route, NNU members and staff, dressed in the colorful hats and garb of Robin Hood, posted a declaration of Robin Hood Tax principles at several locations: the offices of the Securities Industries Financial Management Association, Bank of America's D.C. offices and at the U.S. Chamber of Commerce national headquarters.   NNU Executive Director RoseAnn DeMoro witnessed the postings of the declaration at each locale, placing her stamp in behalf of Robin Hood.

America's financial and non-financial corporations today sit on a cash hoard estimated at $3.6 trillion, a vast cache of money corporate America holds in the face of overwhelming need in communities across the nation.  For those in need of AIDS/HIV treatment, the withholding of vast and vital resources is especially harsh.  

The declaration of principles of the Robin Hood Tax calls for a small sales tax on Wall Street speculative trading, with revenue to be directed to communities in need-- those yet to recover from the 2008 financial collapse where "too big to fail" policies prevailed for banks, leaving the rest of the country in demise.  A small sales tax on trading in stocks, bonds, derivatives and currencies could raise $350 billion a year in the U.S. alone.   

We can end AIDS.  But not without renewed and full  funding efforts.  All assembled on the streets of the capital agreed that a Wall Street Tax is the very place to start.     

"Wall Street took it away and Robin Hood wants it back," said NNU Co-President Jean Ross, RN, in an address across from the White House.  "That revenue can help AIDS prevention and treatment—here and abroad.  And help meet all community needs- jobs, education, retirement, the environment."


A group of protesters took dollar bills tied by ribbon and placed them in the White House fence, a reminder to the government that AIDS funding should be given our highest priority.  Some of the dollars were inscribed with green emblems – Robin Hood's mask – to evoke the call for a Wall Street Tax.  Several protesters were arrested in the course of this symbolic act.    

The U.S. spends $22 billion a year domestically on prevention and treatment of AIDS- an amount equal to the combined revenues of just a handful of Fortune 500 companies.   According to findings presented at this year's Conference, thousands of Americans will be infected in coming years.  In some areas of this country the infection rate is 6 percent for men 30 or younger.   Most of these men diagnosed with HIV, in a recent study shared at the Conference, were unemployed and nearly all had annual household incomes under $50,000.  

Outside this country, $17 billion is spent each year on AIDS in the developing world all told, helping 8 million people stay alive on antiretroviral drugs.  The goal public health officials speak of is to raise that number to 15 million AIDS patients by 2015.   But meeting that critical goal will require an additional $7 billion in annual funding.  ExxonMobil's 2011 profits were $7 billion. And $7 billion is also the approximate amount lost by JPMorgan Chase recently in its speculative betting game to achieve outsized profits.

Among the swelling ranks of unemployed young people, children who are to start yet again in deteriorated schools this fall, elderly putting off retirement due to financial need, a collapsing infrastructure unattended,  the healthcare needs of AIDS/HIV patients ranks very high.   These patients deserve our highest priority. Ask Robin Hood.