Blog
RNRN Update: Second Delegation Leaves for Philippines with More to Follow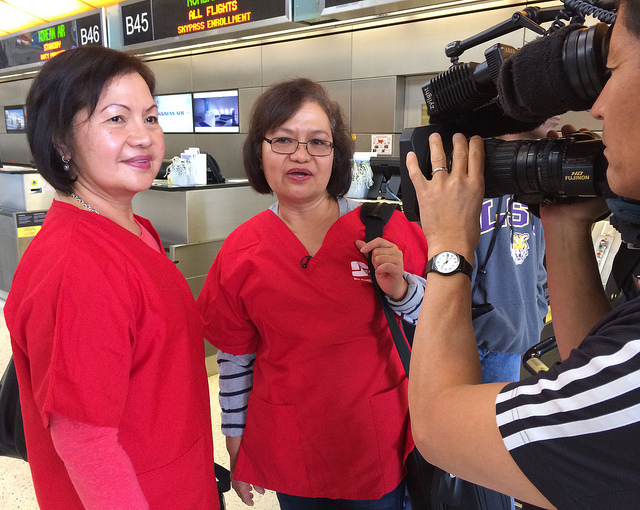 Members of the second team of volunteer nurses – three sisters from California – left Thursday for the Philippines to help in the RN Response Network's relief project for Super Typhoon Haiyan/Yolanda.
The siblings – Mary Lou Catedral, RN, her twin sister, Mary Ann Libeta, RN and their younger sister, Nancy Canapi, RN - are returning to their hometown, Roxas City, in the province of Capiz on the island of Panay.
Their mother, who will soon turn 80 years old, still lives there, as well as other family members. They all survived, the sisters said, but their homes did have significant damage, including flooding and pieces of the roof blowing off. They report no safe water to drink or electricity.
People in other parts of the city did not fare as well with wooden homes literally blown away.
"We decided to do some volunteer work to help the people in our city. These are people we went to school with, we grew up with. It's devastating what has happened," said Libeta, 58, who works with her sisters at Antelope Valley Hospital in Lancaster, CA. "When you see the pictures on the TV, on Facebook, I just feel like crying. We said, We need to help them. We are fortunate enough that we can help. We're asking all the people of the world to help the Philippines."
Super Typhoon Haiyan/Yolando slammed into the Philippines on Nov. 8 The damage and destruction is overwhelming – leaving more than 10 million affected and 4 million displaced.
Other members of the second RNRN delegation will join the sisters early next week. More nurse volunteers from around the country will be providing hands-on care in clinics in the northern end of Panay.
So far, 3,000 RNs from all 50 states and 19 countries have volunteered to help in the RNRN relief project. If you have already volunteered, you do not need to take any further action. RNRN is currently calling through the list, and you will be contacted as soon as possible.
We thank those who have stepped up to help – both by donating financially and volunteering their time. This program would not be possible without the compassion of our RN volunteers and donors.
To donate or volunteer, go to here >>
http://www.nationalnursesunited.org/blog/entry/typhoon-disaster-in-the-philippines-what-rns-can-do-to-help/
The first RNRN team arrived in the Philippines nearly a week ago. They have spent time in Manila and they've traveled throughout the affected area, visiting clinics and coordinating relief efforts.
"What we've seen is total devastation. It pains me to see these people suffering," said Vallejo, CA RN Joseph Catindig, a member of the first team. "Although they are suffering, they are still able to smile, to laugh, to welcome us with open arms. . . . I am happy to be able to give care and do what we do best as nurses."

Michelle Vo, RN, works in a clinic in Panay. Click here to see more photos on Flickr >>
Panay has not seen as much aid and relief efforts as other islands hit by the typhoon. Many buildings, schools and homes are badly damaged, including a Lemery birthing center where the roof was blown off. The center's staff is busy delivering three or four babies a day in their outpatient clinic.
"It broke my heart, they deserve better than that. They deserve a nice, clean birthing chair, better nurses' station, more medications," Catindig said.
The RNRN team interviewed children who were participating in critical stress debriefings that asked them to draw their houses before and after the typhoon and tell their stories.
"People should help because there is so much need," said Michelle Vo, another first team member from Fremont, CA. "There are so many infants, kids, families. They are in need of so much. So many don't have any shelter, have lost everything, clothing, belonging, sleeping on makeshift tents in the rain. We see people who are dehydrated, malnourished, kids sick with fever. They need nurses, equipment and supplies."
Please use the SHARE BUTTONS below to share this good news!