Blog
Oakland City Council Approves Resolution to Support Robin Hood Tax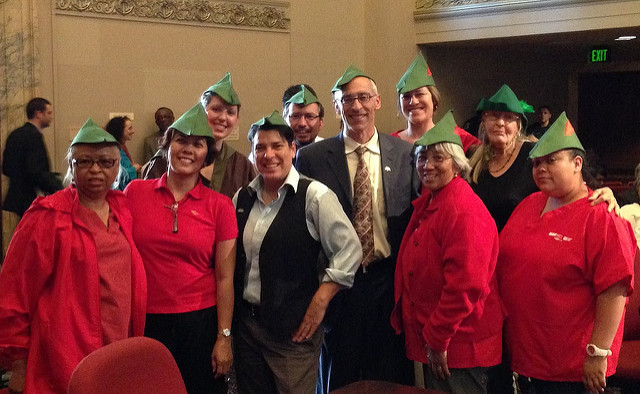 Registered Nurse Thorild Urdal told the Oakland City Council recently how she sees patients struggling everyday to survive during these tough economic times. They're delaying healthcare, rationing medication or not buying medication at all.

"I see them coming in worse and worse shape, " the Alta Bates Medical Center nurse said.

That's why Urdal and her fellow nurses are calling for a Robin Hood Tax to help our communities recover from the economic crisis caused by Wall Street.

On Tuesday, they sought the city council's support for U.S. Rep. Keith Ellison's H.R. 1579, the Inclusive Prosperity Act, which embodies the Robin Hood Tax.

It's a small tax – 0.5 percent on the sale of stocks and lesser rates on bonds, derivatives and currency trades.

The tax can raise up to $350 billion a year that can go toward funding healthcare, education, jobs, housing and retirement and help fight climate change and HIV/AIDS.

After hearing from the nurses, council members voted unanimously to support Ellison's bill.

Earlier in the day, nurses and other community members held a "Robin Hood Faire" outside Oakland City Hall.


Robin Hood Faire and related events in Oakland, CA on May 21, 2013.

The event was part of a week of actions by California Nurses Association and other labor and community groups to call for Oakland leaders stand up to Wall Street and corporate interests.

At the fair, Robin Hood Tax campaigners wore Robin Hood hats and educated passersby about Wall Street sales tax.

They gave out "Wall Street dollars," which represented new revenue the tax would generate. People could put the fake bills in bags marked with critical goals of the Robin Hood Tax campaign, including "Medicare for All," "End Global AIDS/HIV," "Retirement Security," "Quality Education," "Affordable Housing," "Living Wage Jobs" and "Reverse Climate Change.
Three-year-old Isiah Player stuffed his Wall Street dollar in the bag for education.
"I think the Robin Hood Tax is a great idea, especially for education," Isiah's mother, Judith Barajas, said after learning about the tax. "I talk to him about how education is so important."

Judith doesn't want her son to see her struggles. She fears getting sick because she lost her healthcare when she was laid off. The two don't have a permanent place to live – often staying with friends and family. She wants to finish her college degree at St. Mary's College but is already swimming in student debt.

"It's just hard out here," she said as she watched her son play with a blue balloon tied to his wrist. "Robin Hood Tax sounds like it can help."
The Robin Hood Faire was a community effort. A big thanks to those coming out to fight for the important Main Street issues that the Robin Hood Tax would provide resources for:

Affordable Housing: ACCE & Just Cause:Causa Justa Quality Education:
Oakland Education Association
Healthcare: Campaign for a Healthy Healthcare California & California
Nurses Association Retirement Security: California Association of
Retired Americans Stop Climate Change: Asian Pacific Environmental
Network End HIV/AIDS: ACT UP Good Jobs: Jobs With Justice & California
Domestic Workers Alliance Anti-Poverty/Robin Hood Tax: Women's Economic
Agenda Project