Blog
NNU Welcomes 600 New RN Members in West Virginia, Ohio Hospitals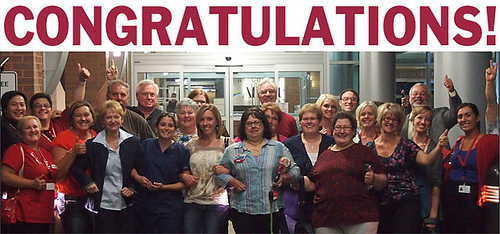 In a statement today, NNU said:
 
National Nurses United is extremely honored to welcome the decision of 600 Registered Nurses at three hospitals in West Virginia and Ohio to join the National Nurses Organizing Committee/NNU.
 
RNs at Bluefield Regional Medical Center in Bluefield, W. Va., Greenbrier Valley Medical Center in Ronceverte, W.Va., and Affinity Medical Center in Massillon, Oh. voted August 30 and 31 to join NNOC/NNU.
 
The secret ballot elections were conducted by the National Labor Relations Board.
 
NNOC/NNU will represent 200 RNs at Bluefield, 150 RNs at Greenbrier, and 250 RNs at Affinity.

By their votes, the RNs said they want a stronger voice, acting together, to make improvements in safe patient care, working conditions, and economic standards for their patients, their colleagues, and their community.
 
They have also made a strong statement by aligning with nurses across the U.S. in the largest, most influential voice of direct care nurses in U.S. history through NNU.
 
With the votes, NNU, since its founding in December, 2009, has won representation for more than 13,000 RNs in 12 states. Overall NNU now has some 180,000 members in all 50 states.
 
At each of the newly represented hospitals, the next step for nurses will be to talk to their colleagues about issues they wish to address together in negotiating with management, elect a team of nurse negotiators, and begin working for a first NNU collective bargaining contract.
 
West Virginia and Ohio both have a proud record of working people coming together to effect positive change for themselves, their families, and their communities. We look forward to continuing that tradition.
Download the Greenbrier victory flyer!