Blog
Holding California private non-profit hospitals accountable for Charity Care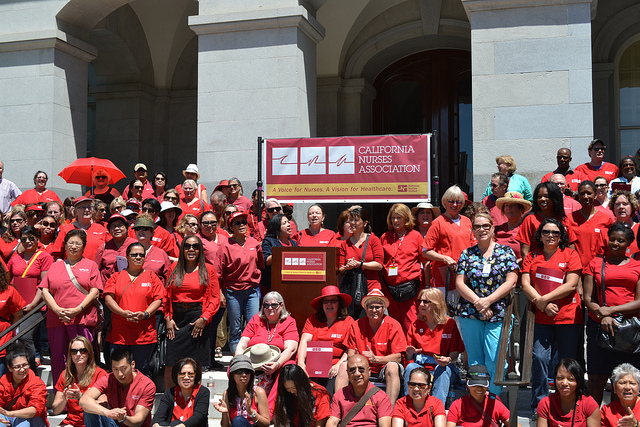 Call on the California legislature to:
Hold California private non-profit hospitals accountable to actually meet their obligation to provide charity care and community benefit in exchange for the billions of dollars they receive in subsidies as a result of their tax exempt status.
The California Assembly Appropriations Committee suspense file hearing will decide the fate of a CNA sponsored bill on May 24th.
Charity Care Accountability
AB 975, by Assembly members Bob Wieckowski of Fremont and Rob Bonta of Oakland takes on the abuse of charity care obligations by many of California's biggest nonprofit hospital chains, like Sutter and Kaiser, that are rewarded with nearly $2 billion in tax exempt benefits beyond what they return to communities.
AB 975 would
Clearly define charity care to ensure it is care for the poor, not marketing, cutting of services or other schemes, and redefine genuine community benefit, and assure greater public transparency.
TAKE ACTION!
Contact Assembly Appropriations Committee before May 24th, and tell them:
"I'm a nurse and a member of CNA (or a patient) and I pass AB 975 off the suspense file which will improve healthcare delivery and transparency in California."
Appropriations Committee Members:
Chairman Mike Gatto (Glendale/Los Angeles) P. 916-319-2043 email 
Assembly Member Raul Bocanegra (San Fernando Valley) P.9 16-319-2039 email
Assembly Member Steve Bradford (Gardena/South Los Angeles County) P. 916-319-2062 email
Assembly Member Ian Calderon (Whittier) P. 916-319-2057 email
Assembly Member Nora Campos (San Jose) P. 916-319-2027 email
Assembly Member Susan Eggman (Stockton) P. 916-319-2013 email
Assembly Member Jimmy Gomez  (Echo Park/Los Angeles) P. 916-319-2051  email
Assembly Member Isadore Hall (Compton/South Los Angeles) P. 916-319-2064 email
Assembly Member Nate Holden (Pasadena) P. 916-319-2041 email
Assembly Member Richard Pan, M.D. (Sacramento) P. 916-319-2009 email
Assembly Member Bill Quirk (Hayward) P. 916-319-2020 email
Assembly Member Shirley Weber (San Diego) P. 916-319-2079 email
###