Body
NNU Covid-19 Surveys
---
Survey 4 Results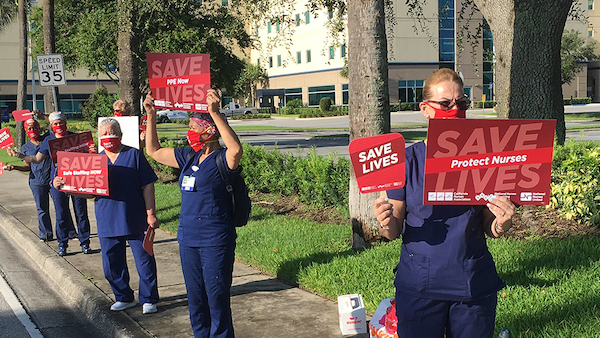 National nurse survey exposes hospitals' knowing failure to prepare for a Covid-19 surge during flu season
National Nurses United's new nationwide survey of more than 15,000 registered nurses reveals that 11 months into the pandemic, hospitals are failing to prepare for a surge of Covid-19 cases during flu season and that basic infection control and prevention measures are still lacking. Nurses cite the health care industry's inappropriate pursuit of profit during this public health crisis as the main reason for its failure to follow the proper infection control measures that nurses have been demanding since the beginning of the pandemic. Read the full press release here
---
Survey 3 Results
National Nurses United's (NNU's) second COVID-19 survey of U.S. nurses showed the impact of health care employers' and governments' failures and disregard for nurses' lives.
The preliminary results of NNU's third survey show the impact of reopening too soon. The results report on responses from more than 21,200 nurses from 50 states plus Washington D.C. and three territories.
Even as many states rush to reopen, health care employers continue to implement crisis standards of care, leading to dangerous conditions that leave nurses and their patients unprotected.
---
NNU's survey reveals devastating impact of reopening too soon
»

24% of nurses think their employer is providing a safe workplace.

87% of nurses who work at hospitals reported reusing at least one piece of single-use PPE. Reusing single-use PPE is a dangerous practice that can increase exposures to nurses, other staff, and to patients.

54% of nurses who work at hospitals say their employer has implemented a decontamination program to "clean" single-use PPE, such as N95 respirators, between uses. Decontamination of single-use PPE has not been proven to be safe nor effective.

23% of nurses reported they have been tested for COVID-19. A lack of testing jeopardizes nurses' health and safety and their ability to protect their patients and families.

36% of nurses who work at hospitals reported that they are afraid of catching COVID-19 and 43% are afraid of infecting a family member.

27% of nurses reported having exposed skin or clothing when caring for suspected or confirmed COVID-19 patients, leaving nurses and their colleagues at increased risk of being exposed to the virus at work.
---
Survey results as of July 27, 2020.
Click Here to Download COVID-19 Survey Results