Press Release
Seniors and Nurses Pledge to Fight for Survival of Kaiser Manteca After Meeting With Kaiser Execs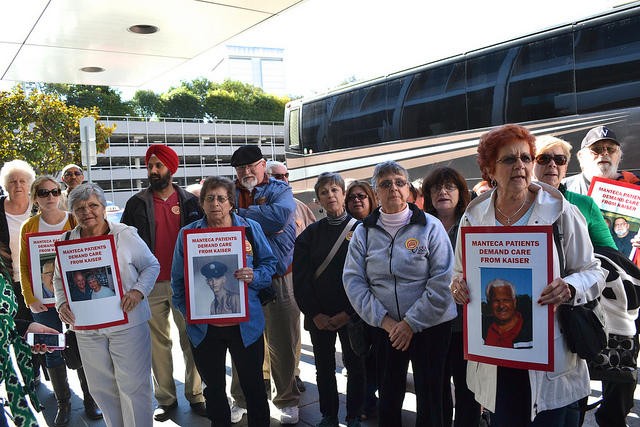 Vigil in Manteca Wednesday Next Step in Continuing Protest
 
More than sixty Manteca seniors arrived at Kaiser Permanente headquarters in downtown Oakland today to protest the corporation's withdrawal of vital services at Kaiser Hospital in Manteca. The seniors, many holding pictures of loved ones who are too ill to travel or have passed away, shared accounts of how they and family members have been harmed by Kaiser's policy of cutting and denying services in Manteca and rerouting patients to Modesto and beyond.
 
"My husband and I moved to Manteca from Oakland with the understanding that Kaiser Manteca was a full service hospital," said Xin Bernstein, who has a neck injury that requires ongoing care. "I have to drive to Modesto to get MRI's – my husband has Parkinson's so asking him to drive me is not an option, especially when there's an evening return in the dark. Recently I learned that my premiums will go up $100 next year. I feel very cheated."
 
Following the press conference, a small delegation of seniors was escorted to the 22nd floor where they met with Kaiser's top executives. The executives made no commitment to restore services and the seniors pledged to press forward with their demands for a full restoration of services at Kaiser Manteca Medical Center.
 
Nurses, who are members of the California Nurses Association and work in the Manteca facility, accompanied the seniors as they traveled from Manteca to Oakland, to support their fight for the restoration of services.
 
"Kaiser's Manteca hospital is basically a transfer center at this point," said Amy Glass, an ICU RN at Modesto, Kaiser, one of the hospitals that Manteca patients are being transferred to. "If you need an electrocardiogram outside the hours of 7-9am weekdays, you are transferred. If you have abdominal pain and you need an ultrasound, you are transferred. If you have a GI bleed and need an endoscopy or colonoscopy, you are transferred." Glass added, "These are basic services, but if you are a Manteca Kaiser patient, you will only get them after being transferred down a very congested freeway."
 
Wednesday a community candle light vigil is planned outside the hospital in Manteca.
 
What:              Community Candle light vigil in Manteca
When:             Wednesday, Nov. 6, 5 pm-7 pm
Where:            Kaiser Manteca Medical Center, 1777 w. Yosemite Ave., Manteca CA
 
The seniors are calling on Kaiser to re-open the hospital's third floor to admit patients from the Emergency Room or following surgery, and to stop denying admission to patients in need of longer term recovery services in the second floor sub-acute unit. They are also calling on Kaiser to bring back critical diagnostic services cut earlier this year.
View photos from the rally at Kaiser Headquarters in Oakland.
Listen to the KPFA News report-Manteca Seniors Rally at Kaiser Headquarters in Oakland to reopen Kaiser Manteca Hospital.