Press Release
RNs to Picket 21 Kaiser Hospitals Wednesday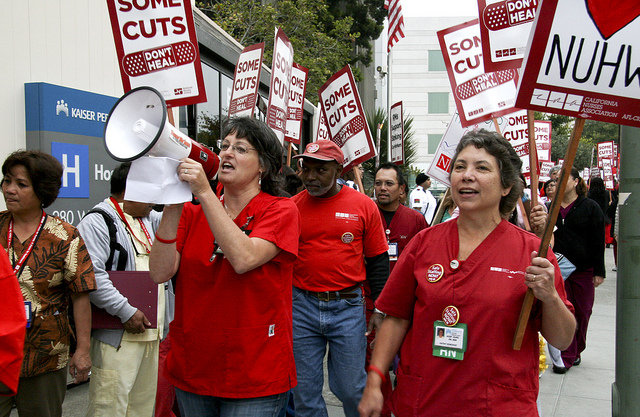 Nurses Cite Short Staffing, Especially in Emergency, Mental Health Care
Registered nurses will picket 21 Kaiser Permanente hospitals from Santa Rosa to Fresno Wednesday, Dec. 19 to protest what they say is persistently inadequate nurse staffing in emergency care and other hospital areas, as well as patients being turned away from needed care, the California Nurses Association/National Nurses United announced today.
Picketing at all 21 hospitals, including big Kaiser medical centers in San Francisco, Oakland, Sacramento, and other Northern and Central California facilities, will be held from 2 to 6 p.m.
CNA, which represents 17,000 Kaiser RNs, says short staffing has become a chronic problem in Kaiser emergency rooms, mental health services, and other hospital areas. In addition, RNs charge, Kaiser is too often sending patients home from the hospital prematurely and expecting family members to care for patients who should still be in the hospital. 
"It breaks my heart to see patients having to wait too long to receive care, or are not able to access care because of the high co-payments that Kaiser is charging them," said Lauri Hoagland, Nurse Practitioner.  "Many of my patients have told me they cut the pills they are prescribed to them in half to make them last longer.  We are here today to stand up for our patients."
RNs are calling on Kaiser to:
Immediately address short staffing, including staffing hospitals and clinics by patient need, not on arbitrary regional budget goals.
Admit all patients who need care. No patient should have to wait, as many do now, in 23-hour "observation" units before being appropriately admitted for inpatient care.
Staff hospitals with permanently scheduled RNs who are committed to their local communities, rather than the current overreliance on temporary and travel RNs.
Holding patients in emergency "observation" units is a particular concern say the RNs. So is mental health care, an issue that is gaining renewed national focus in light of the horrific school shooting last Friday in Connecticut.
In California, Kaiser ranks second only to the State of California as a provider of mental health services.
Yet, despite Kaiser's pledge to provide comprehensive mental health services to its members, an in-depth analysis suggests that the HMO's mental health services are sorely understaffed and frequently fail to provide timely and appropriate care.
Patients often experience lengthy delays in obtaining services, an overreliance on "group therapies," and frustrating obstacles that push many patients to forgo care or seek treatment elsewhere at their own cost, say the RNs.
"Nurses believe that as a patient, if you need hospital care, need a nurse, or need mental health services, you should receive it. Patients should not be sent home prior to care being completed, or forced to stay in an observation unit rather than receive a room," said Cortez.
CNA is inviting any patient or family who feels they were wrongly denied care by Kaiser Permanente to e-mail CNA at: nodenialofcare@calnurses.org
Picketing will occur Wednesday, from 2 to 6 p.m. at the following locations:
Sacramento Area
Roseville Medical Center, 1600 Eureka Rd.
Sacramento Medical Center, 2025 Morse Ave.
South Sacramento Medical Center, 6600 Bruceville Rd. 
East Bay
Antioch Medical Center, 4501 Sand Creek Rd.
Fremont Medical Center, 39400 Paseo Padre Parkway
Hayward Medical Center, 27400 Hesperian Blvd.
Oakland Medical Center, 280 W MacArthur Blvd.
Richmond Medical Center, 901 Nevin Ave.
Walnut Creek Medical Center, 1425 South Main St. 
San Francisco/Peninsula
San Francisco Medical Center, 2425 Geary Blvd.
South San Francisco Medical Center, 1200 El Camino Real
Redwood City Medical Center, 1150 Veterans Blvd.
North Bay/Solano County
Santa Rosa Medical Center, 401 Bicentennial Way
San Rafael Medical Center, 99 Montecillo Rd.
Vacaville Medical Center, 1 Quality Dr.
Vallejo Medical Center, 975 Sereno Dr.
South Bay
San Jose Medical Center, 250 Hospital Parkway
Santa Clara Medical Center, 700 Lawrence Expressway
Central Valley
Fresno Medical Center, 7300 North Fresno St.
Manteca Medical Center, 1777 W Yosemite Ave.
Modesto Medical Center, 4601 Dale Rd.
###