Press Release
Public Pressure Builds to Restore Services to Kaiser Manteca Picket and Rally Tuesday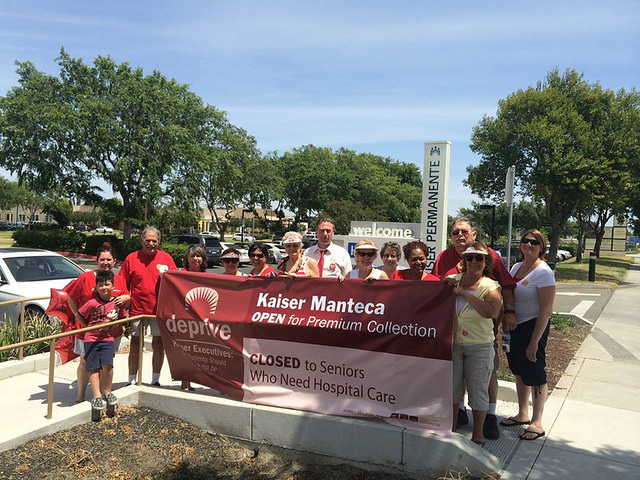 Seniors, nurses push city council to adopt resolution at meeting following rally


A growing coalition of seniors, registered nurses, religious leaders, and community members are holding a series of actions on Tuesday in their campaign to restore Kaiser Manteca to a full-service, acute-care hospital, the California Nurses Association/National Nurses United (CNA/NNU) announced today.


An informational picket and rally in front of the facility with be followed by a march to the Manteca city council meeting, where activists will demand that city officials pass a resolution calling on Kaiser to restore the services they have been steadily cutting.  


Kaiser bought the hospital formerly known as St. Dominic's Hospital in 2004, with a commitment to maintain services for the community.  Instead, the HMO giant eliminated essential services in January 2013, which has created significant delays in patient care compounded by transportation difficulties.

 

What:             Informational Picket and Rally to Restore Services to Kaiser Manteca

When:            Tuesday, June 3, 2014, 5:00 p.m. – 6:00 p.m.

Where:           Kaiser Manteca, 1721 W. Yosemite Ave., Manteca, CA 95337

 

What:             Community Mobilization to Demand City Council Adopt a Resolution to Restore Manteca Services.

When:            Tuesday, June 3, 2014, 6:30 p.m.

Where:           City Council Chambers 1001 W. Center Street, Manteca, CA 95337

 
Whole units are sitting empty, along with the entire general medical-surgical third floor of the hospital. Kaiser has virtually stopped hospital admissions by cutting critical diagnostic testing services, closing radiology at 5:00 p.m., and forcing patients to travel across county lines to Modesto for care.


Local firefighters, paramedics, and emergency medical technicians say the surge in transfers by ambulance is having a ripple effect throughout the emergency response system. Emergency response ambulances are tied up transferring patients to and from Modesto, rather than being available for the community's emergency needs.


"We are living in a time of spiraling healthcare costs," said Ruth Somera, a Kaiser Manteca RN.  "The Manteca facility is the only Kaiser hospital in San Joaquin County and it has been stripped of vital services. Our patients pay a lot of premiums for services that are no longer available to them in their own county. We will continue to fight to restore these services for our community."


"Kaiser continues to put our community, our patients, and our families at risk by not restoring these crucial services," said Amy Glass, a Kaiser Modesto RN and Manteca resident. "Kaiser is abandoning the promise when they bought St. Dominic's to maintain a full-service hospital provide to the Manteca community They have artificially created a slow death by eliminating services.


Services cut from Kaiser Manteca Medical Center include:

Cardiology — No stress test on treadmill. Limited echocardiogram to diagnose heart problems. Cardiologist moved to Kaiser Modesto.

Radiology — No ultrasound services after 5:00 p.m., patients who need emergency ultrasound after hours have to be transferred out to other hospitals.

Gastrointestinal Services — No colonoscopy and endoscopy for inpatients here in Manteca, GI specialist moved to Kaiser Modesto.

Closure of Medical-Surgical Unit — An entire hospital floor has been closed, greatly reducing the number of hospital beds.

Gradual Closure of Sub-acute Unit — Kaiser has continued gradual closure of sub-acute unit (2nd floor) since January 2013.


Kaiser made over $2.7 billion in profits in 2013 and holds $21.7 billion in excessive reserves, Most recently, Kaiser had made an additional $1.1 billion in profits during its first quarter of this year.