Press Release
Pressure Builds to Save Doctors San Pablo-Town Hall #2-Thursday-Hercules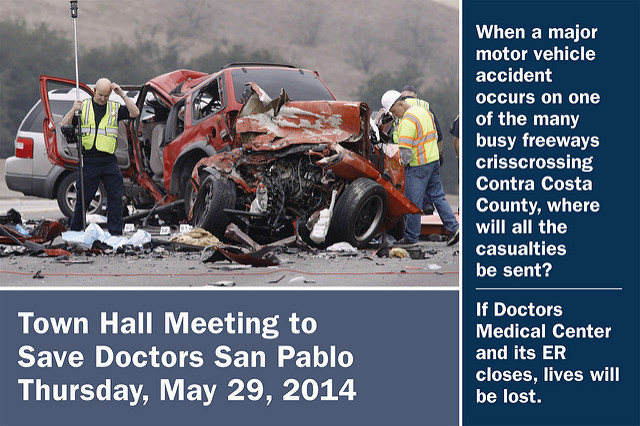 Public Demands on County to Save Vital Hospital Grows at Packed Richmond Town Hall
Campaign to access funds from 6.5 % increase in tax revenue builds for June 3 Supervisor meeting
 
HERCULES- As West Contra Costa residents gear up for the second of three town hall meetings this Thursday in Hercules, the pressure mounts for the County to step in and assume responsibility for the management and operation of Doctors Medical Center San Pablo, and its emergency room as a full service hospital, the California/National Nurses United (CNA/NNU) announced today. 
 
Reports of a positive outlook for the county's finances coupled with a anticipated reduction in the number of uninsured patients at the county hospital and clinics as a result of the Affordable Care Act are adding momentum to the effort and will used to pressure the County Board of Supervisors at their upcoming June 3 meeting.
What:             Town Hall Meeting to Keep Doctors San Pablo Open
When:            Thursday, May 29, 2014, 6:30 p.m.
Where:           Hercules Senior Center—111 Civic Drive, Hercules, CA, 94547
 
"The potential closure of DMC would overwhelm the intensive care unit (ICU) at Contra Costa Regional Medical Center (CCRMC)," said Kathy Avila, an RN who works in the ICU at CCRMC. "We have eight ICU beds while DMC has 23. A closure of DMC would strain existing services past the point of safety."
"As a nurse at Doctors Medical Center for 36 years and a lifelong West Contra Costa County resident, DMC, San Pablo, has always been a focal point for my community, " said Karen Bolden, RN, a Pinole resident. "I am heartened to see the community, my community, rallying to secure a long-term future for this vital hospital.  The work of the nurses, doctors and healthcare workers at DMC is critical to our community and must continue for the long term."
 
The third town hall meeting will take place June 5 in Pleasant Hill. The meetings have been held in Supervisory Districts IV, V, and I where the highest proportions of working class, African American and/or senior residents who stand to be most affected by a closure reside. 
 
CNA/NNU filed charges and is awaiting response from the U.S. Department of Health and Human Service's Office of Civil Rights for a charge alleging unlawful discrimination by Contra Costa County and the West Contra Costa Healthcare District by the planned closure of the hospital.
 
DMC has been a vital safety net for citizens of the West County for many years, and as the complaints allege, the closure of DMC would have a disparate and disproportionate impact on the health of African Americans and senior citizens in violation of their civil rights. The complaints seek injunctive relief from the federal government to prevent the closure of DMC.

DMC provides 60 percent of the emergency care in the region, roughly 40,000 patients a year and has 79 percent of the hospital beds.