Press Release
Nurses Welcome Renewal of Sen. Sanders' Bills for Free Education and to Heal America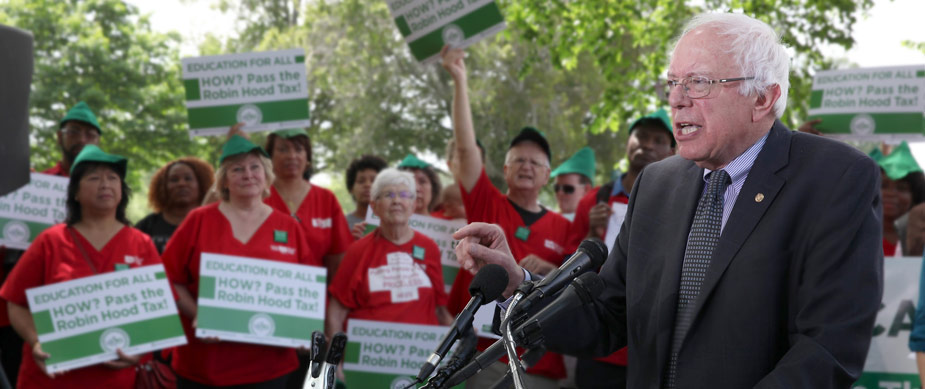 Wall Street Speculation Fee Could Raise $300 Billion a Year 
National Nurses United today applauded Sen. Bernie Sanders' re-introduction of two Senate bills to raise critical revenue to pay for college education for all and other essential community needs with a small tax on Wall Street speculation.
The College for All Act would eliminate undergraduate college tuition fees for students attending public colleges and universities, reform student loans, and expand work-study programs.
The bill is an important step for eradicating student debt, currently pegged at more than $1 trillion and the fastest growing form of consumer debt, as well as expanding educational and employment opportunity. Rep. Pramila Jayapal will introduce a House version of the bill today.
It also puts the U.S. on a path embraced by other nations that already provide free college education including Brazil, Chile, Finland, France, Germany, Norway, Slovenia, and Sweden. 
Sanders' other bill, the Inclusive Prosperity Act, parallels HR 1144, which was re-introduced in February by Rep. Keith Ellison with 18 House co-sponsors. The proposal would help reinvest in American families and communities by providing the resources for jobs and healthcare for all, affordable housing, eradicating HIV/AIDS and fighting poverty, environmental justice and the climate crisis. 
The revenue stream for both bills is patterned after financial transaction taxes that exist in other global major economic markets. NNU has joined with health care and community activists to campaign for a similar levy, also known as the Robin Hood tax, for several years.
Economists estimate that a tiny surcharge of no more than a nickel on every $10 in trades of stocks, bond, and derivatives —a tax that is proportionally smaller than what most Americans pay for a pair of shoes – could increase revenues collected by the Treasury Department by as much as $300 billion annually.
"Free college education, as many other countries already provide, is opens the door for greater economic opportunity, reducing income inequality, and a better life for all Americans," said NNU Executive Director RoseAnn DeMoro.
In support of the College for All Act, Caitlyn Thomas, a Washington DC RN, today recalled that she graduated from college in 2009 "with thousands of dollars in student loan debt. The only job I could get was working in a hospital lab that didn't provide health care benefits. I couldn't afford rent and had to move back home with my parents. I had doctor's bills I couldn't afford to pay. Eventually I was able to go back to school to earn my nursing degree. But that meant even more student debt. I know I am not alone. There are tens of millions of people just like me."
"Nurses see first hand the irreplaceable bond between good health and economic security and social justice," added NNU Co-President Jean Ross, RN. The Robin Hood tax, which draws the resources we need from those who have recklessly gambled with our economy on Wall Street, is an innovative path to fulfilling the promise of a civilized society and a more just nation."   
"At a time when so many in Washington promote austerity budgets and drastic cuts in essential programs from health care to environmental protections to education, the Robin Hood tax is a progressive response to providing the resources our communities need," DeMoro said. "Once again, Sen. Sanders is demonstrating the leadership that is a broad yearning across the country."
The fees set by the bills would not affect households earning less than $75,000 annually. Instead, its principal targets are the wealthiest Americans whose reckless speculation fueled the 2008 recession: bankers, brokers, and rich investors who own most of the nation's stocks and bonds.
It would also slow the growth of automated high frequency trading, which makes the stock market more dangerous. A small tax would make risky HFT unprofitable, and help reduce the excess speculation on commodities like food and gas that drives up prices, which will protect the economy from computer-generated collapses and market manipulation.
Almost 30 nations have some form of a financial transaction tax and the U.S. had a similar tax from 1914 until 1966. The United Kingdom has had a tax on stock trades for decades -- the same rate proposed in the two bills and their volume of trading has grown robustly. European Union members continue to discuss implementation of their own financial transaction tax.
In the U.S., the Robin Hood Tax embodies a widespread campaign endorsed by 172 national organizations representing millions of members in unions, student, health, clergy, civil rights, environmental and community organizations, and other consumer and activist groups.