Press Release
Nurses Urge Senate to Reject Pruitt for Critical EPA Post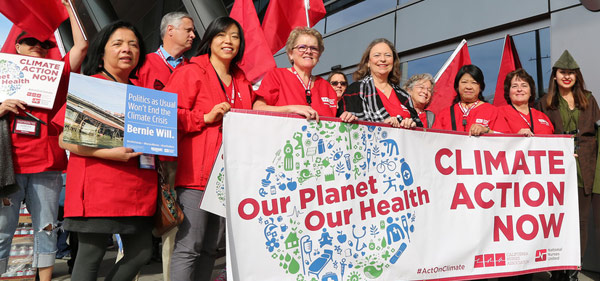 Defeat of Puzder for Labor Post Shows Strength of Protest Actions
With the defeat of fast food CEO Andrew Puzder to head the Department of Labor, National Nurses United today stepped up opposition to the nomination of Oklahoma Attorney General Scott Pruitt as Administrator of the Environmental Protection Agency.
"Puzder's withdrawal was the direct result of widespread public protests which showed mass opposition can have an impact in resisting the confirmation of wholly unsuited nominees for these vital cabinet positions," said NNU Co-President Deborah Burger, RN.
"Of the remaining nominees, Scott Pruitt should be next on the challenge list. His nomination is also a clear affront to the agency he would lead, and an immediate threat to public health and safety," said Burger.
NNU is urging calls to Senate members before the full Senate votes on Pruitt, which could come as soon as late Thursday or Friday.
Nurses have already announced opposition to Pruitt, noting, as Burger put it, his "entire career has been based on attacking the fundamental protections we count on to keep our water and air safe, to reduce the health impact of environmental pollution, and to limit the escalating threat to our families, and our future from the climate crisis." 
Just as revelations about Puzder's record and history increasingly came to light, new reports continue to emerge about Pruitt, including his close ties with the fossil fuel industry to which he has long been linked in opposition to environmental standards.
This week an Oklahoma court is poised to hold an emergency hearing on an effort by the watchdog group, the Center for Media and Democracy, for release of more than 3,000 emails they say expose Pruitt's ties to major energy interests who may have donated to his political causes. The Environmental Defense Fund says Pruitt has joined with corporate energy interests in 14 lawsuits against EPA clean air and water protections to limit pollutants that are linked to children's asthma, brain development, and other severe health risks.
Additionally, reports re-emerged Wednesday that shortly after taking office at Oklahoma Attorney General, Pruitt wrote to the EPA claiming the agency was "significantly overestimating" methane pollution from multiple fracking operations in his state (that have also led to a huge upsurge in earthquakes in Oklahoma). The New York Times found that the letter had actually been written by lobbyists for Devon Energy, a major Oklahoma energy company, and sent nearly word for word to the EPA. Devon later donated hundreds of thousands of dollars to the Republican Attorneys General Association while Pruitt chaired the body, the Atlantic noted.
"Conflict of interest with the fossil fuel industry, coupled with his overt hostility to the protection our families need from environmental pollution, and his record as a climate change denial make him singularly unfit to lead this critical agency," said Burger.
His nomination, she continued, "also dovetails to overall attack on the EPA, environmental protections, and climate action that has become a hallmark of the Trump Administration, also symbolized by its rush to complete the widely opposed Dakota Access Pipeline Project."
In a letter last month to the Senate Committee on the Environment and Public Health, Burger and NNU Co-President Jean Ross wrote, "Registered nurses know that our patients and our nation cannot afford four years of policies that will pollute our air and water, contribute to global warming, and endanger public health. We urge you to reject Mr. Pruitt to be EPA Administrator and show the American people that you are committed to protecting the environment and public health."