Press Release
Nurses Urge Lawmakers to Pass "Patient Safety Act" and "Hospital Profit Transparency & Fairness Act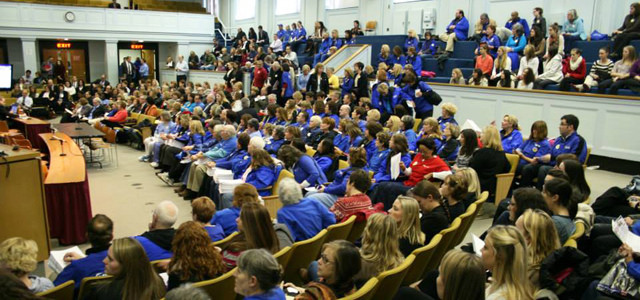 Hundreds Attend State House Hearing Today to Support Both Bills in the Gardner Auditorium at 11 a.m.
Researchers Present Groundbreaking Studies of California vs Massachusetts Hospitals: Mass Patients Receive 30% Less Nursing Care Resulting in Worse Outcomes and Higher Readmissions
----------------------------------------------------------------
The Patient Safety Act  (H3843) will dramatically improve patient safety in Massachusetts' hospitals by setting safe, realistic and prudent standards for the maximum number of patients that can be safely cared for by hospital nurses at any one time, while providing hospitals with the flexibility to adjust staffing based on patients' needs.  Currently there is no law requiring adequate or safe nursing coverage, a situation that places thousands of patients in jeopardy every day. 
The Hospital Profit Transparency & Fairness Act (H3844) will guarantee taxpayers' right to know exactly how their health care dollars are spent by hospital administrators. The transparency act requires that hospitals receiving tax subsidies, disclose in a timely and fully transparent manner how large their profit margins are, how much money they hold in offshore accounts, and how much compensation they pay their CEOs. To ensure access to needed services by all patients, the act also provides for enhanced funding options for hospitals serving poorer populations.
Today's testimony will provide compelling data and moving stories:
Researchers will present new and powerful evidence linking patient safety and outcomes to limits on the number of patients nurses should care for at any given time. Studies comparing California, which passed Patient Safety Limits years ago, to Massachusetts will provide unassailable evidence that the lack of such standards is the key reason Massachusetts ranks 42nd worst in the nation for preventable hospital readmissions.
California's Former Senate Majority Leader will address why he was the deciding vote for Patient Safety limits and why he feels it was the best vote he's ever taken.
Nurses will provide shocking testimony and countless instances of patient safety taking a back seat to hospital profits. They will offer disturbing stories about the affects this has had on the patients in their care.
Nurses will describe the disgraceful pattern of hospitals closing down essential medical departments while enjoying large profit margins, hiding money in offshore accounts and paying CEOs excessive compensation packages – all the while health care costs continue to skyrocket.
Taxpayers will demand the Right to Know how tax subsidies to the hospital industry are being distributed within those facilities.
What today's testifiers are saying about these two measures:
Researcher Judith Shindul-Rothschild, Ph.D., RNPC
Associate Professor at Connell School of Nursing at Boston College:
Rothschild will present findings of two just completed and soon-to-be published studies that for the first time provide concrete, peer-reviewed data comparing standards of nursing care and patient outcomes for hospitals in Massachusetts, where there is no limit on nurses' patient assignments, and California, where such a law has been in place for nearly a decade.  Rothschild's study provides conclusive evidence that Massachusetts hospital nurses are caring for significantly more patients than their counterparts in California and that patients in Massachusetts are receiving over three hours less care per day from registered nurses than patients on the West Coast (just over six hours of care for patients in our hospitals vs. over nine hours of care per day in California).
"From the public's perspective, it is absolutely in their interests to support this ballot initiative so that when they're in the hospital or a loved one is in the hospital, there is no doubt there will an adequate number of registered nurses to care for them to assure they get safe, quality nursing care," says Shindul-Rothschild, whose article in the Journal of Nursing Care Quality showed an association between nurse staffing in Massachusetts and a higher rate of readmissions for heart failure.  She points out that heart failure is the most common and the most expensive condition for which patients are admitted to hospitals, and the number one cause of death in America.  
Peter Arno, Senior Fellow and Director of Health Policy Research for the Political Economy Research Institute at UMass Amherst:
Arno, an expert on hospital financing and health policy research addresses patient outcomes and the staggering level of hospital readmissions in Massachusetts.
"This issue has been studied for decades. It is irrefutably clear that hospitals with low nurse staffing levels have higher rates of adverse patient outcomes, poorer quality of patient care and higher treatment costs. Improving nurse staffing levels is a key factor in promoting high quality patient care and safety," said Arno. "The patient outcomes studied by researchers include hospital mortality, failure to rescue, length of stay, patient satisfaction and clinical conditions including pneumonia, cardiac arrest, electrolyte imbalances, pressure ulcers, skin trauma and urinary tract infections."
"These negative outcomes have economic and financial implications for payers, providers and taxpayers. Hospitals with higher nurse staffing levels had 25% lower odds of Medicare readmission penalties and
85% of Massachusetts hospitals are currently penalized for excessive rates of Medicare readmissions." 
Arno's data shows the percentage of hospitals penalized for readmissions is nearly 20% higher than the national average, while Massachusetts' Health Policy Commission reports that our hospitals waste over $700 million a year due to these preventable readmissions. 
Arno concludes, "Raising inpatient nurse staffing levels, which have been demonstrated to improve quality of patient care, is a moral, political and economic imperative whose time has come."
MNA/NNU President Donna Kelly Williams on the Importance of the Patient Safety Act:
"The research is irrefutably clear, the most important factor contributing to the health and safety of patients in hospitals is the number of patients your nurse is caring for at any one time. Patients in hospitals are at much greater risk when they are forced to share their nurse with too many other patients at the same time."
"This ballot measure will ensure patients receive the care they need and deserve, preventing thousands of patient complications, saving thousands of lives, and millions of dollars that are being wasted now because patients aren't receiving adequate, timely care from their nurse."
Pamela Woodbury,  Former Patient (Director, Spencer Council on Aging)  Who Acquired a Preventable Infection and was Readmitted as a Result of Her Nurses Being Overloaded:
"The worst night of my hospital stay came when my roommate arrived.  She was a frail, elderly patient who had had a broken hip.  She was in severe pain, confused, frightened and needed a great deal of care.  I overheard the nurse explain to an aide that she'd been boarded in the Emergency Room for several hours before being moved to my room because units at the hospital were closed because they were not staffed.  My nurse was assigned to both me and my roommate and she needed to be with her for most of the night.  During that time, my IV site began to throb and I could feel a burning where my strong antibiotic, Vancomycin, was being infused.  I just could not bring myself to ask the nurse for help because I knew that my roommate needed her attention and comfort.  The result of my waiting meant that my IV infiltrated and caused tissue damage and excruciating pain in my arm."
"In no way do I blame the nurse.  She was doing all she could for both of us – and no doubt for all of the other patients assigned to her.  That poor nurse was running in and out of our room all night. As both a patient and as someone who is responsible for the care of seniors, I am here today to emphasize the need for passage of the Patient Safety Act.  As patients, we are admitted to the hospital because we need nursing care and deserve for that care to be the safest it can be.  Every day that goes by without this law, patients in our hospitals are suffering and that is unacceptable – both to me and to the vulnerable senior citizens I am responsible for."
Former Majority Leader of the California Senate Dean Florez:
"I was initially torn about whether to vote for the Patient Safety Act in California because I wondered if administrators from the hospital industry might be right. I ended up being the deciding vote in support of the bill when it finally passed. Today, I am so pleased with the improvements in patient safety and outcomes which resulted from the law, I now consider that vote to be one of my proudest legislative moments. "
Colleen Wolfe (UMass Memorial Medical Center Nurse) on Hospital Administrators' Penchant for Refusing Nurses Pleas for Fewer Patients:
"When a family couldn't be at the hospital to hold their dying baby, a neonatal nurse asked the manager to find just one more nurse to help, so that she could sit with the baby and hold him while he died… and so he wouldn't have to die alone. The manager refused because 'we don't know how long it will take him to die'."
Highlights of Testimony for the Hospital Profit Transparency and Fairness Act:
MNA Executive Director Julie Pinkham on the Importance of the Initiative:
"Every hospital in Massachusetts, whether nonprofit or for profit, gets the majority of their revenue from taxpayers via Medicare and Medicaid. And most hospitals are further subsidized with enormous tax breaks because they are structured as non-profits."
"Taxpayers and lawmakers have the right to know whether the tax subsidies they provide hospitals are going toward health care for patients or excessive salaries for CEOs or if that money is being stored in offshore accounts as excess profit. The Transparency initiative will ensure that taxpayers and lawmakers have that information in a timely manner."
Kim Adam (Nurse at Cape Cod Hospital) on Excessive CEO Compensation:
"Our hospital CEO was receiving over $2 million a year when he left the hospital suddenly and under undisclosed circumstances. We learned only recently that the hospital continued to pay him for years. This isn't a private corporation we're talking about. It's a non-profit hospital. How could this be?  And why are we finding out about this two years later?" 
"And how can they justify paying a failed CEO millions of dollars for years, while they close down our endoscopy service which treats thousands of elderly patients who can't afford to go elsewhere for that service."
Linda Judd (Nurse at Baystate Franklin Medical Center) on Lavish Compensation for Hospital CEOs:
"According to a report released recently by the Attorney General, Mr. Tolosky earned more than $5.3 million between 2009 and 2011, which includes his base salary, bonuses and contributions to his lucrative defined benefit pension plan.  If that was not enough, during that same time period Baystate Health provided Mr. Tolosky with a $27,000 car allowance and also paid more than $3,000 for his wife's travel expenses. Baystate also reimbursed Mr. Tolosky more than $37,000 for expenses related to his personal financial, tax, and estate planning."
"As a nurse who struggles every day to provide the best care possible to vulnerable patients in my community, I am appalled that our tax dollars, are being used to compensate the extravagant lifestyle of a corporate CEO. That's why we need H3844."
Katie Murphy (Nurse at Brigham & Women's Hospital & MetroWest Medical Center) on Taxpayers' Right to Know:
"There is no way for the public and policy makers to accurately understand how taxpayer subsidies are being allocated by hospital administrators. Why are non-profit hospitals paying their CEOs seven figure salaries when research shows there's no correlation between CEO pay and the quality of care provided by the hospital?  That's why I support H3844."
Kelly MacDonald (former nurse at Brigham & Women's Faulkner Hospital Detox Unit) on Hospitals with Huge Profit Margins Cutting Needed Services:
"The Faulkner Detoxification unit is a widely respected and desperately needed service that provides specialized care by a team of physicians, nurses and other addiction treatment and mental health professionals to more than 1,000 patients each year.  Yet last year, Partners Health Care attempted to close this unit despite posting corporate profits in excess of $350 million per year.  The decision sent shock waves throughout the entire addiction treatment community, as it came at a time when addiction rates are increasing and when there is a critical shortage of these types of beds and services in the Commonwealth. In fact, Eastern Massachusetts had the highest rate of emergency room visits for illicit drug use of any metropolitan region the United States."
"I believe it is wrong that a health care provider as profitable and rich as Partners can attempt to cut services that all parties agree are essential to our community.  I support the Hospital Profit Transparency and Fairness Act because it will provide all of us with a clear picture of hospital finances and how our taxpayer dollars are being used, and it will provide the resources to communities for services they need."
Diane George (nurse at North Adams Regional Medical Center) on How Smaller "Have Not" Hospitals Serving Poor Communities Are Being Squeezed by Their Wealthy Competitors:
"While hospital networks like Baystate Health post millions of dollar in profits, and nearby Berkshire Medical Center also has a healthy bottom line, we have struggled to survive. This has caused our administration to proceed with the closing of our Greylock Pavilion, a special unit that provides psychiatric and substance abuse treatment, as well as our pediatric unit that provides basic care to ill children in our community, despite the fact that our community opposes this closing and the DPH has ruled they are essential services for our community."
"I support the Hospital Profit Transparency and Fairness Act because it will help to create some equity in our health care system by clawing back excess profits from the very profitable "haves" in our system to create a fund that could be used to preserve services like those recently lost at my hospital that everyone agrees our community needs."
For more information on both measures, visit:  www.PatientSafetyAct.com 
###
Founded in 1903, the Massachusetts Nurses Association/National Nurses United is the largest professional health care organization and the largest union of registered nurses in the Commonwealth of Massachusetts. Its 23,000 members advance the nursing profession by fostering high standards of nursing practice, promoting the economic and general welfare of nurses in the workplace, projecting a positive and realistic view of nursing, and by lobbying the Legislature and regulatory agencies on health care issues affecting nurses and the public. The MNA is a founding member of National Nurses United, the largest national nurses union in the United States with more than 170,000 members from coast to coast.