Press Release
It's Official–Federal Labor Board Certifies California Nurses Assn. at Kaiser's Flagship LAMC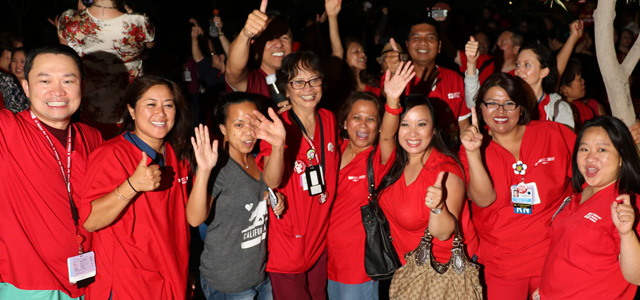 The National Labor Relations Board today officially certified the California Nurses Association/National Nurses United as the union representative for 1,200 registered nurses at Kaiser Permanente's flagship Southern California hospital, the Los Angeles Medical Center (LAMC).
 
Today's ruling comes one week after LAMC nurses voted by nearly 70 percent to join CNA, the state's largest organization of nurses. Nearly 90 percent of the LAMC RNs voted in the secret ballot election conducted by the NLRB, the federal agency that oversees private sector labor relations.
 
With the vote, CNA now represents more than 20,000 Kaiser RNs in California and nearly 90,000 nurses overall across the state. NNU, the nation's largest RN organization, represents 185,000 nurses from coast to coast.
 
 "With our resounding vote for CNA as our union, patients and nurses at Kaiser LAMC won," said Tessie Costales, RN, an intensive care unit nurse at LAMC, on election night July 23. "We want the best for our patients and we need the strong union and contract to be able to retain experienced nurses."
 
"What amazing nurses," said RoseAnn DeMoro, executive director of CNA and NNU.

"In my 30 years at CNA I cannot recall a more incredible group of RNs who were more determined to join our organization to have a powerful voice to protect their patients and advocate for their colleagues. We are extremely proud to welcome them into the CNA/NNU family," DeMoro said.
 
DeMoro said she is "looking forward to a quick, smooth transition as the LAMC nurses meet with Kaiser to negotiate their first CNA collective bargaining agreement. It is an exciting time."

Next up for the RNs will be electing a team of colleagues to represent them in immediate contract talks with Kaiser officials.