Press Release
Federal Court Orders Repeat Offender Affinity Hospital To Bargain with Nurses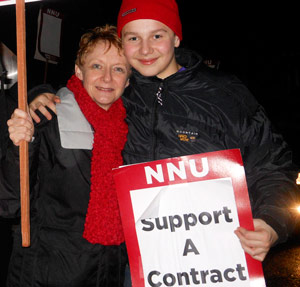 A U.S. District Court Judge in Northern Ohio Tuesday ordered Affinity Medical Center of Massillon, OH to end its lawless behavior of refusing to properly negotiate with its registered nurses and to end a systemic pattern of violating federal law and nurses' democratic rights.
U.S. District Judge Benita Pearson ordered Affinity to "bargain in good faith" with National Nurses Organizing Committee-Ohio/National Nurses United and to furnish necessary information requested by the union relating to bargaining and the termination of two RNs who NNOC-Ohio says were targeted due to their patient advocacy and union support.
Judge Pearson's temporary restraining order, petitioned for under authority of section 10(j) of the National Labor Relations Act, is a rare judicial remedy typically reserved for the most egregious employer misconduct under federal labor law.
It marks the latest in a series of court sanctions against Affinity, now owned by Quorum Health Corporation, a spin-off operation of the notorious Community Health Systems, probably the most virulent violator of federal labor law in the healthcare industry. Notably, Quorum's chief spokesperson in negotiations with the union continues to be a lead CHS attorney whose firm also represented the employer in this case.
"This is a significant ruling against a rogue corporation that has repeatedly shown a callous disregard of the democratic rights of its registered nurses, and their efforts to improve care conditions for their patients," said NNOC Co-President Cokie Giles, RN.
"We are extremely pleased with this court verdict," said Affinity RN Debbie McKinney. "After years of bad behavior and treatment on behalf of CHS and now QHC to the RNs and our issues, we hope this company will finally comply with federal law."
"RNs at AMC as well as other CHS/QHC owned hospitals across the country are fighting for better staffing, fair treatment, and a way to address the outrageous turnover that occurs through out the CHS/QHC systems," McKinney said.
"Every resident of the community served by Affinity has a right to a safe hospital conditions that are eroded when hospital officials trample on the rights and concerns of its RNs. Sadly that has been a pattern for Quorum and CHS across the nation," Giles said.
Judge Pearson's order followed an indictment by the NLRB on complaints filed by NNOC-Ohio over the hospital's repeated failure to negotiate in good faith with Affinity RNs, engaging in what is known as "surface bargaining," in violation of federal labor law.
The judge specifically cited the hospital's insistence on "broad management rights, which would give it unilateral control over terms and conditions of employment, and unilateral discretion to reduce or eliminated medical and retirement benefits." The injunction further directs Affinity to provide the union information needed to conduct negotiations with the employer.
NNOC-Ohio also brought charges before the NLRB, now upheld in Judge Pearson's order, over the firing of two pro-union RNs Tara Magrell and Michelle Hastings.
Two years ago, a civil jury ordered Affinity to pay over $2 million in damages for first the unjust firing of another RN, Ann Wayt, illegally attempting to have her nursing license revoked, and defaming her when it trumped up claims of improper care delivery in retaliation for her outspoken patient advocacy and union support.
"It is notable that despite prior injunctions, Affinity and Quorum continue to engage in bad faith conduct in contract negotiations," said Giles. "If this disgraceful, lawless behavior is not reversed, we will encourage the NLRB to seek a contempt order from the U.S. District Court with meaningful sanctions. No employer should be permitted to behave as though it is somehow exempt from the mandates of federal labor law."