Press Release
Actions This Week in LA and Sacramento Demanding Assembly Speaker Rendon Stop Delay and Pass SB 562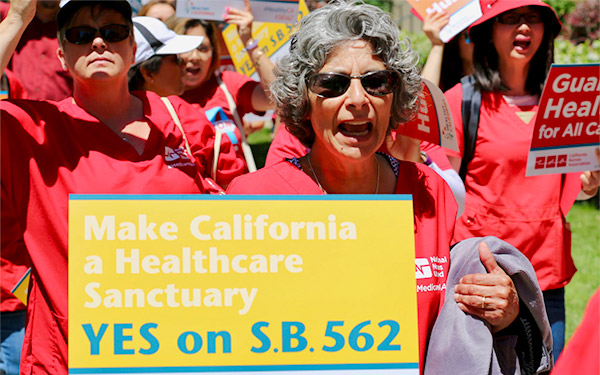 The campaign for the Healthy California Act, a coalition comprised of 350 organizations representing over six million Californians, is holding actions this week in Los Angeles and Sacramento to demand that Assembly Speaker Anthony Rendon immediately let the Assembly vote on SB 562, a bill that would guarantee healthcare to all Californians.
Speaker Rendon announced his decision to put a hold on the bill at 5 p.m. on Friday, a decision that the bill's primary sponsor, the California Nurses Association, described as "a cowardly act, developed in secret without engaging the thousands of Californians who have rallied to enact real health care reform."
"Acting in secret in the interests of the profiteering insurance companies late Friday afternoon abandons all those people already threatened by Congress and the Trump administration," said Deborah Burger, RN and CNA Co-president.
"The people of California are counting on the legislature to protect them now, not sometime next year, and as polls have shown Californians support this proposal by a wide majority. A solution to this health care emergency could be at hand; Speaker Rendon is standing in opposition," said Burger.
ACTIONS:
Los Angeles - Tuesday, June 27 – 12 noon – 1 p.m.
What: "Inaction = Death" event at Speaker Anthony Rendon's District Office
Where: 12132 South Garfield Avenue, South Gate, Calif.    
Sacramento - Wednesday, June 28 – 11 a.m. – 1 p.m.
What: Stop Delay and Pass SB 562 Event in Sacramento
Where: Intersection of 11th St. and L St. (1131 11th St.) Sacramento, Calif.
The Healthy California Act, SB562, passed the full Senate in June after a series of well-attended support rallies and town halls throughout the state, as well as marches and a packed public Senate Health hearing in Sacramento. Advocates continued the grassroots campaign for the bill throughout the weekend, with canvassing in Assembly districts, including Rendon's 63rd district in Los Angeles.
State Senators Ricardo Lara and Toni G. Atkins introduced the bill in February, joined by Senators Benjamin Allen, Cathleen Galgiani, Mike McGuire, Nancy Skinner, and Scott Wiener as co-authors.  Assembly Members Rob Bonta, David Chiu, Laura Friedman, Ash Kalra, Kevin McCarty, Adrin Nazarian, Mark Stone, and Tony Thurmond are also co-authors of the bill.
For more information: www.healthycaliforniaact.org