Press Release
Nurses to Protest at 7 UC Hospitals October 12, Saying "Patients Over Profits!"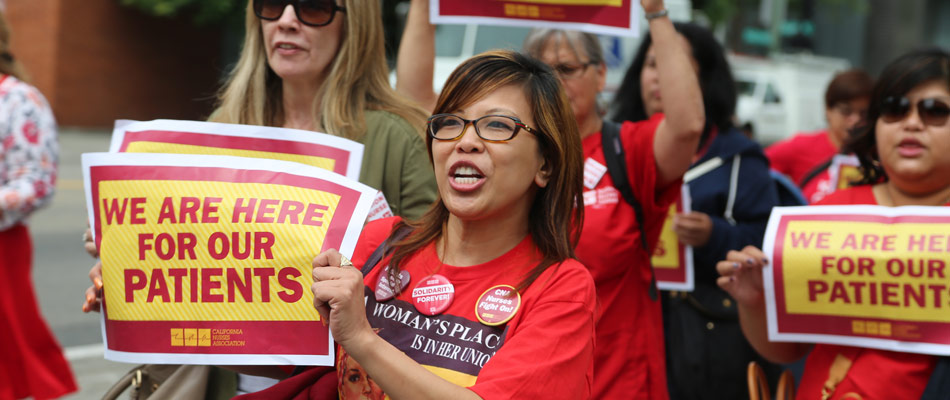 RNs Concerned Management's Focus on Profit over Patient Care Issues Puts Patients at Risk
Registered nurses will hold protest rallies at seven University of California (UC) hospitals across California on Thursday, October 12, to call attention to what they say is a prioritizing of hospital profits over patient care issues, the California Nurses Association/National Nurses United (CNA/NNU) announced today.
CNA represents over 14,000 RNs employed by the University of California (UC)—at five UC medical centers, 10 Student Health Centers, and Lawrence Berkeley National Laboratory. The RNs have been bargaining a new contract since May of 2017, with nurses advocating for provisions to support safe patient care, safe staffing and safe workplace conditions. According to nurses, management has rejected nurses' patient-care focused proposals, while simultaneously demanding over 60 takeaways to the current contract, which expired Sept. 30.
"It is unconscionable, at a time when UC medical centers have made over $1.9 billion in profits since 2013 and hand out huge wage increases to UC executives, that UC would demand major takeaways from the nurses," said UC Davis Medical Center RN Shirley Toy, who explains that a strong contract is a recruitment and retention tool, and these takeaways result in a loss of experienced nurses for patients in the community.
"UC nurses are committed to winning a new contract that improves patient care and RN working conditions and maintains the RN benefits that recruit and retain high-quality nurses to the UC system," said Toy.
UC RN protest rallies will take place on October 12 at the following locations and times:
UC San Diego: Thornton Hospital, 9300 Campus Point Drive, La Jolla, CA 92093—11am-1 pm (rally noon)
UCLA Santa Monica: 1250 16th Street, Santa Monica, CA 90404, 11 am-2 pm (rally 12:30 pm)
UCLA Westwood: 757 Westwood Plaza, Los Angeles, 11 am -2 pm (rally noon)
UCLA Irvine: 101 The City Drive South, Orange, CA, 11 am-1 pm (rally noon)
UC Davis Medical Center: 2315 Stockton Blvd, Sacramento, CA 95817, 11 am-1 pm and 2:30-4:30 pm
UC San Francisco - Parnassus: 505 Parnassus Ave, San Francisco, CA 94143, 11:30 am-1:30 pm
UC San Francisco - Mission Bay: 550 16th St, San Francisco, CA 94158, 11:30 am to 1:30 pm (rally noon)
Key issues, according to nurses, include:
Improving Patient Care: Nurses are standing up for safe nurse-to-patient staffing ratios, so patients have access to the care they deserve—based on their severity of illness or injury, not based on a hospital's bottom line. In addition, nurses are advocating for protection from being assigned outside their unit of expertise, for a dedicated team to help safely transport patients, and for adequate rest and meal breaks for nurses so they can give patients high quality, safe care.
Protecting Nursing Practice: Nurses are fighting to support UC RNs pursuing professional development and education, to the benefit of patients, who then have access to highly skilled, well-trained RNs. Nurses also seek additional time for RN patient advocacy through the Professional Practice Committee (PPC), a cross-departmental committee of RNs who meet to discuss patient care issues throughout the hospital.
Improving Workplace Safety: With healthcare workers experiencing rates of workplace violence higher than any other industry, RNs are fighting for improved protections—which would also protect patients, families, and other hospital visitors, given that hospital violence impacts everyone in the vicinity. RNs are also standing up for the highest level of protections from infectious diseases, and for requiring that each UC campus must provide safe patient lifting equipment, training and dedicated lift teams—which are essential for reducing patient falls and injuries to RNs.
Ensuring Recruitment and Retention of Experienced RNs: With the UC system threatening takeaways to healthcare and retirement security for current and future UC nurses, RNs are standing up to say that nurses deserve their own healthcare coverage and to retire with dignity. Strong contract provisions in these areas can help recruit and retain the most experienced RNs for UC patients.
"RNs who work for the University of California stand united in our commitment to provide the highest standard of care for our patients," said UC Irvine RN Maureen Berry. "We are opposed to UC's dozens of bargaining takeaways that erode staffing protections, meal and break coverage, education benefits and much more. We will continue to demand that UC put the public good at the forefront as nurses do each and every day."