Blog
RNs and Community: Vote YES for Patient Care!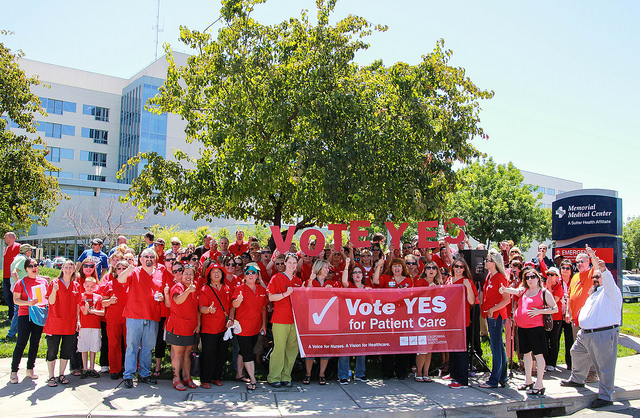 Memorial Medical Center RNs speak out: YES for CNA
With support from their Sutter colleagues at Tracy, Eden, Alta Bates Summit, Delta, Roseville, CPMC Pacific, St. Luke's; and from Bakersfield Memorial, Children's Hospital of Oakland, St. Rose, St. Joseph's, Doctor's Medical in Modesto & Kaiser Modesto, MMC RNs say YES for CNA.



Labor allies showing their support for MMC RNs saying YES to CNA.

Community groups and labor allies support RNs organizing for a voice and safer patient care! North Valley Labor Federation, Stanislaus-Tuolumne Central Labor Council, Modesto Firefighters Local 1289 CSEA, Modesto Peace Life Center, California Alliance for Retired Americans, Teamsters Local 601, Communications Workers of America & IBEW 595 support MMC RNs for CNA!

Show of support for MMC RNs saying YES to CNA.