Blog
Join the Nurses in NYC or Online Sept. 17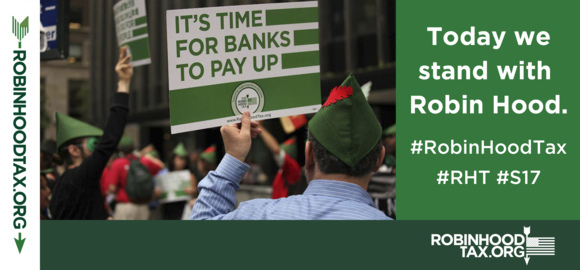 Leading nurse and healthcare union organizations in 13 countries in the Americas, Africa, Asia, Australia, and Europe are holding coordinated actions Tuesday, September 17 to escalate the call to stop the harmful effects of austerity measures, privatization, and cuts in health care services that they say are putting people and communities at risk, and call for safer nursing care. Many of the actions – including a major march in New York City that coincides with the opening of the United Nations General Assembly and the second anniversary of the Occupy Wall Street movement – will also call for a tax on financial speculation, also known as the Robin Hood tax, to raise hundreds of billions of dollars in needed revenue for a healthy economic recovery.
WHERE: New York City on Sept. 17 at 5pm at Dag Hammarskjold Plaza (2nd Ave and 47th St).
Can't make it to New York City?
Please join us online in one or more of the following ways:
Authorize a one-time Tweet or Facebook post about this event using Thunderclap!
Thunderclap will automatically post the image above on your Facebook page.


Watch and share the LIVE STREAM VIDEO of these actions starting around 6:30pm EST on Tuesday, Sept. 17


Login and LIKE our Robin Hood Tax Facebook page and JOIN our event page.
Read and share the releases:
200 Organizations Urge Obama, Congress to Back the Robin Hood Tax on Wall Street

Nurses, Healthcare Workers in 13 Countries Call for Robin Hood Tax on Wall Street
Don't know what to write about it?
Copy & paste these sample Tweets onto your Twitter pages:
#Nurses around the world came together to create Global Nurses United - #S17 first #GlobalNurses day of action. http://ow.ly/oVzdJ
US #nurses march in NYC on #S17 to demand a #RobinHoodTax to #TaxWallstreet. Part of #globalnurses day of action http://ow.ly/oCa4R #RHT
Nurses know what patients need. #GlobalNurses across the globe stand up for patients on #S17 http://ow.ly/oCa4R #morenurses
Austerity is failing. On #S17, #GlobalNurses send a message: Our patients & communities need more caring, not cuts. http://ow.ly/oVyex
On #S17, #nurses around the world hold a global day of action. Follow here -> http://ow.ly/oVyex #globalnurses #morenurses
#Nurses worldwide are holding #S17 marches, rallies, petitions to fight against austerity http://ow.ly/oVyex #globalnurses #morenurses
We stand with #globalnurses on #S17 - global day of action! #S17 http://ow.ly/oCa4R #morenurses
Or write your own tweets using any of these hashtags:  #S17, #RHT, #RobinHoodTax, #TaxWallStreet, #OWS
Follow Robin Hood on Twitter: https://twitter.com/robinhoodtax
In solidarity for economic justice,
Thank you,
--Karen

Karen Higgins, RN
NNU Co-president